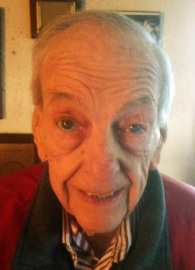 WILLIAM J. MILLER

TRACK & FIELD JOURNALIST

When William J. "Bill" Miller filed his last byline a few years ago, he was the longest-serving track & field journalist in the New York metropolitan area, if not the country. A Pearl River resident since 1954, Bill had chronicled track & field for The New York Times continuously since 1947. He was hired as a correspondent during his junior year at Manhattan College and served with distinction for more than six decades.

Bill was a fixture at the Penn Relays, having covered every edition from 1947 to 2010. He missed the 2011 Relays after suffering congestive heart failure in March, but regained his vigor and was back in his customary perch in the press box from 2012 through 2014. In 1993 Bill was the recipient of the Jesse Abramson Award, presented annually at the Penn Relays to an individual who has rendered stellar long-term service as a track & field journalist.

Both the Nanuet Relays and the Loucks Games were launched in 1968, and the stature of both meets was enhanced by the presence of a New York Times reporter – one Bill Miller – since their inception. Not even the birth of his sixth child, Tracey, on the day of the inaugural Loucks Games in '68 could keep Bill from faithfully filing his report on the meet. The depth of his reporting and writing elevated track & field to the top tier of high school sports coverage at The Times and made him the envy of metro scholastic sports writers.

Bill has a particular fondness for covering meets at the Armory Track & Field Center, formerly known as the 168th Street Armory and 102nd Engineers Armory, in upper Manhattan. He could be found roaming the infield there or compiling reports in the media room on any given winter weekend and frequently during weeknight meets as well. In January of 2008 he became the second recipient of the Stan Saplin Sports Media Award, presented annually to a journalist, public relations professional, executive, filmmaker or broadcaster who has made a significant contribution to the promotion of the sport.

When Bill was feted with the award prior to the 2008 New Balance Games at the Armory, Dr. Norbert Sander, president of the Armory Foundation, said: "Bill Miller's dedication and excellence as a lifetime reporter of the sport of track & field make him in many ways one of a kind, and we are honored to acknowledge his outstanding service."

Bill began his sports reporting career as a sophomore on the school newspaper at La Salle Academy in Manhattan. He then served as the newspaper's sports editor for two years. A sprinter since his grade school days, Bill excelled in sprints and relays for four years at La Salle, winning the 440-yard dash at the CHSAA Sectional championships and, in 2001, gaining induction into the Catholic High Schools Sports Hall of Fame.

Bill attended Manhattan College on a track scholarship, graduating in 1948. His education and athletic career were interrupted near the end of his freshman year when he was called upon to serve in the Army Air Corps during World War II. After almost three years of service in the South Pacific and Asia, he returned to Manhattan and took advantage of the G.I. Bill, which paid the tuition of veterans, to finance his education. Since he no longer needed an athletic scholarship to support his schooling, he decided to concentrate on his studies and forgo his track participation.

Bill resumed his journalism career and served for two years as sports editor of the college newspaper, the Quadrangle, which led to his hiring as a correspondent with The Times.

He also served as Manhattan's first sports information director. His most notable achievement in that role was shifting the emphasis of a 1951 college basketball betting scandal away from two former Manhattan basketball co-captains who offered bribes, and toward the target of their $1,000 bribe to shave points, Junius Kellogg, then a star center for the Jaspers. Instead of accepting the money, Kellogg, the program's first black player, informed school authorities about the offer and cooperated with police to catch the culprits and help expose the scandal.

Bill Miller secured a part-time job at The Times as a stringer in the Sports Department, covering a gamut of sports such as fencing, boxing, dog shows and Gaelic football. He was most identified, however, with his coverage of track & field, especially high school track. "I love track and the kids who are involved in it," Bill says. "The New York area has always come up with very good track athletes, and there's a great spirit in the track community. It's something I've enjoyed immensely."

In addition to his sports writing, Bill held down a variety of "day jobs," including public relations work for Hallmark Cards and serving as editor of magazines on medical economics and for employees of the Parke-Davis pharmaceutical company.

Bill was inducted into the Manhattan College Athletic Hall of Fame in 2004. He is also the recipient of numerous awards for outstanding contributions to high school and college track and field, including the Pathmark Service Award, Iona College Relays George T. Eastment Award, and Cardinal Hayes Games Special Recognition Award.

Bill has six grown children, nine grandchildren and one great-grandchild, with another due in July. His wife, Joan, a former executive secretary for the editor of The Times, died in 1993.


---