Paul Nowicki - Nanuet 1970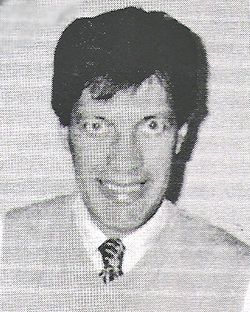 Rockland County's first state champion in the half-mile says he feels honored to be in the company of the great middle distance and distance runners from the county who have followed in his footsteps. Just as fitting, though, is the notion that they should be bowing to him in gratitude.
Today, Rockland can boast of many state titleholders in the middle distance and distance events. Not so in 1970. Yes, Tappan Zee's Gene Martin (1955) had won a state mile title, but that seemed like ancient history, even in 1970. Paul Nowicki really had no local template of success in the 880. It was up to him to establish the mold.
To this day, Paul seems genuinely awed by his state-meet victory. "When I hit the tape, I was in astonishment that I had won," says Paul, who was also Nanuet's first state champ in any sport. "When you think about all the others [in Rockland] who came along after me, it was unbelievable that I was the first."
Not so unbelievable when you consider:
Bloodlines. Paul's father, the late Joseph F. X. Nowicki, was the 1943 national collegiate 880-yard champion for Fordham University and an Olympic team contender in 1948. Paul's grandfather, also named Joseph, was an outstanding long-distance runner who, in 1910, won a 10-mile race in Yonkers in 55 minutes, a national-caliber clocking in those days and still exceptional time.
Team strength. Under Coach Dave Hanson, Nanuet was building a track powerhouse in the late '60s that was strong in every event and had great synergy from the 440 on up. Nowicki, Alan Roy, Ed Fuhrman, John and Ed Kearney and others trained hard and pushed each other to collective improvement.
Although he says "I never thought about tactics, just go out and run," surely strategy played some part in his state-meet triumph, which took place at the University of Rochester's Fauver Stadium – the same cinder track where his dad once held the stadium record (1:54 as a post-collegian). When the 20-man field merged after the first turn, "it was chaos," Paul remembers. "Pushing, elbows … a few guys fell."
Fortunately, Paul avoided the pileup, passed several runners in the last 200 yards, and strode past favored Steve Groom of Mount Vernon in the homestretch to win in 1:56.8. His personal best of 1:55.5 was only 15th-fastest in the state that year, but he was fastest when it counted.
Perhaps a bit of divine intervention was at work, too: Paul's nervous (superstitious?) mom, who had made the six-hour trip to Rochester with her husband, ran out of the stadium just as the 880 was about to start, and prayed in the parking lot while the race was in progress. "I guess it helped me," Paul says simply.
In addition to his state title, Paul also was the Rockland and Section 9 Class B champion in the 880; was undefeated in that event in the spring of 1970; won the Section 9 indoor 600 meters; and clocked a 1:13.5 for 600 yards at the Eastern States championships, then a Rockland record and still No. 5 on the all-time County list. He also won the Section 9 Class B 880 as a junior and twice ran 1:55 in dual meets as a senior.
Paul earned a track scholarship to Fordham University, where he was part of an indoor two-mile relay that captured gold medals at the Princeton Relays, the IC4As, the Metropolitan championships and, culminating a stellar 1972-73 indoor season, a victory at the NCAA championships, for which the relay team members (Paul, Marcel Philippe, John Jurgens and Alex Trammell) were named first-team All-America. Paul also treasures his team's 4x800-meter relay triumph in the U.S. Olympic Invitational at Madison Square Garden his freshman year.
Paul was inducted into the Fordham University Athletic Hall of Fame in 1993, making him and his father the only father-son tandem to be enshrined in that hall of fame.
Following in his father's path, Paul joined his dad's law firm in New City in 1977. He became County Attorney in 1994 and currently is litigation counsel for the County of Rockland. Paul resides in Piermont with his wife, Mary, and their 4-year-old daughter, Juliet.
---