Dennis Martin - Tappan Zee 1958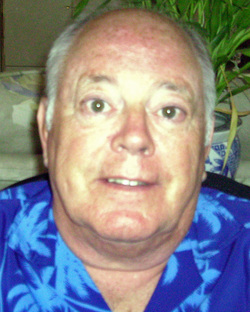 Dennis Martin showed exceptional promise as a runner his freshman year at Tappan Zee, cementing the No. 5 scoring position on the Dutchies' state-championship cross country team in 1954. That winter he played JV basketball under Coach Bill Moran, but with an older brother who was a state track and cross country champion, Dennis soon realized he was destined to ply his athletic trade on cinders and trails rather than hardwood.

"I was a runt when it comes to basketball," says Dennis, who stands 5-foot-7, about the same height as brother Gene. "I liked basketball, but I was always expected to be a runner because of my brother. It was pretty much predetermined I wouldn't play basketball."

After Gene graduated in 1955, Dennis kept the Martin name in the limelight for three more victory-studded years. In cross country, he swept the Rockland County and Section 9 Class C crowns three straight years and was undefeated against Rockland competition. He placed fourth in the New York State Class B championships as a junior, and culminated his XC career with a second-place finish at the State meet his senior year at Salisbury Park, Long Island.

In track, Dennis captured a pair of Rockland County championships in the mile, clocking a personal-best of 4:32.6 in a dual meet with Nyack and 4:34.4 at the County meet his sophomore year. Those times were not far off his brother's then-County record of 4:29.7 set in '55. As a junior Dennis established a County record en route to winning the 880-yard run at the County meet in 2:04.4. He surpassed that time a week later with a 2:04.1 gold-medal effort at the Section 9 meet. In addition to his three County titles, he was also unbeaten in dual meets three straight years in the 880 and mile.

Although he followed in the footsteps of his famous brother, who was inducted into the Hall of Fame in 2005, Dennis always sought to forge his own imprimatur in running. "I set my own goals; I never aspired to do what Gene did," says Dennis, who was coached by Hugh Short his freshman year and Ray Bader thereafter. "Gene was encouraging to me, and the good Lord gave me a good set of lungs."

Dennis enjoyed sharing his athletic experience at TZ with teammates like his brother Gene, Jack Dailey [the 1959 state XC champ and a fellow Hall of Famer], Bill Smith, Bill Clark and Bill Bullock, and with athletes from other teams such as Nyack's Roger Brown and the Wright brothers, and Suffern's Pete Greene.

After graduating from TZ in 1958, Dennis attended Colgate for two years, earning a cross country letter his freshman year before deciding to concentrate on his studies and discontinuing track. He transferred to Fairleigh Dickinson and graduated summa cum laude with a degree in chemistry/biology education.

He then chose to shift his career path from education to business, joining Lever Brothers in 1963 as a research biologist in the Research & Development division. He spent nine years at Lever Brothers, in Edgewater, N.J., before joining Avon Products in Suffern as a human clinical toxicologist in the R&D division, retiring in 1999.

Dennis was born in Jersey City, N.J., and lived for a time in Brooklyn before spending his formative years in Tappan. After some 14 years in Rockland, he moved to Orange County, residing first in Highland Mills and later in Cornwall. Since 2004, he has been a permanent Florida resident and currently lives in the Tampa suburb of Hudson. Despite having moved away from Rockland almost 50 years ago, "I identify myself as a Rocklander," he says proudly. "It's where I went to grammar school and high school. My overall experience at Tappan Zee was a very pleasurable one."

Dennis, who turns 70 in June, was married for 36 years to his high school sweetheart, Arlene Timko. She died of Hodgkin's disease in 1995. The couple had four children – William, 50; Lorrie, 47; Dennis, 43; and Lisa, 42 – and Dennis has 10 grandchildren. Dennis re-married in 2004. His second wife, former Cornwall resident Beverly Nielsen, has four grown children, 11 grandchildren and 1 great-grandson.
---