Juliet Brown Demeritte - Ramapo 1995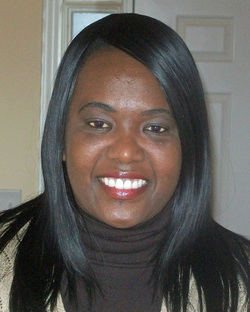 Although Juliet Brown walked everywhere while growing up in her native Jamaica, it wasn't until after she moved to Spring Valley at age 13 that she really learned how to run. Juliet came out for the Ramapo track team as a sophomore at the urging of friend Jenetta Morris and pretty soon she was dusting everybody, without really knowing what she was doing.

"I was an overweight kid just trying to get in shape," Juliet says. "I started beating people on the team, but I didn't know what was a good time or a bad time. I was running wild with no form, no spikes. I thought you just run down the track. I would not even stay in the lane. I got DQ'd for not staying in my lane in the 200. I didn't know what a drill or a baton was. I never watched track before."

Under the expert tutelage of sprints coach Lamont McCormick and head coaches Matt Mulligan and Franklin Cleveland, Juliet quickly developed into a sprinting ball of fire who left scorch marks on tracks throughout Rockland County and New York State.

Juliet won State titles in the indoor 300 meters in 1995 and the outdoor 200 and 400 in 1994, and was runner-up in the indoor 55 and outdoor 400 in '95. She won an amazing 16 Rockland County titles (12 individual, four relay), five Section 1 Class A crowns and four State Qualifier golds, and set County records in the outdoor 100 (11.8) and 200 (24.3) and indoor 200 (25.20) and 400 (57.85), all since broken. She is still one of the five fastest Rockland girls in six different sprint events, including the 300 meters (39.89) and outdoor 400 (55.6).

"She was a fierce competitor," says Mulligan, Juliet's head coach for spring track. "When she got that look in her eye, she was hard to stop. She was a beast competing."

Juliet's speed also gave her a decided edge on the soccer field. She was a star forward as a junior but a sprained ankle that season prompted a "ban" from the sport by her track coaches for her senior year. "I just joined soccer to stay in shape for running," she says. "I was not the best shooter, but I could get to the ball faster than everybody else."

Like most sprinters, Juliet's appetite for speed was curbed beyond half a lap. "Most of the coaches felt my strongest race was the 400, but I didn't like running long," she says. "I like when it's over quick and you're finished faster." But the 400 proved instrumental in her college choice when she placed third in that event in the 1995 U.S. Junior Nationals, held in Raleigh, N.C. The area and its warm climate made an immediate impression upon Juliet, and when Coach Cleveland told her about Raleigh-based St. Augustine's College, it planted the seed for her college choice.

Juliet eventually got there, but only after rejecting a scholarship offer from Miami – "The school was too huge for me; I was not used to that big environment" – and spending a year at Essex County College in Newark, N.J., to raise her grades. She enrolled at St. Augustine's in 1996 but was ineligible to compete for a year because her coach at Essex refused to grant a release from her scholarship obligation.

At St. Augustine's under the guidance of veteran coach George Williams, Juliet embraced the inviting Carolina climate and ideal training conditions to elevate her game. She ran on four NCAA Div. II national champion relays for the Falcons – the 1999 outdoor 4x400, the 2000 indoor 4x400 and outdoor 4x100 and 4x400. In the latter meet, she also placed fifth in the 400, sixth in the 200 and ninth in the 100 to help Saint Aug capture the women's team championship. Juliet had a third-place finish in the 400 at the 1998 outdoor nationals to her credit, and also ran on the Falcons' winning 4x400 relay in their division at the Penn Relays.

On the conference level, Juliet shared MVP honors in leading Saint Aug to the 2000 Central Intercollegiate Athletic Association women's outdoor title. She won the 200 and 400 and ran on the winning 4x100, and also was the CIAA 400 outdoor champion in 1998. And, believe it or not, this sprinter who disdained anything longer than 200 meters blossomed into a solid cross country performer. She won the CIAA individual title to lead the Falcons to the 1999 team championship, clocking an excellent 18:40 for 5K, and ran on another title-winning team the previous year. "I didn't want to do [cross country], but if you are on scholarship, you have to do it," says Juliet, whose distance prowess convinced her coach to try her in the 800, where she ran a nifty 2:05. "My coach said I wasn't a sprinter anymore, but he was still putting me on the 4x100. It was crazy."

Juliet graduated from St. Augustine's in 2000 with a degree in social work (human services), but remained in Raleigh to continue her competitive track career for two more years. Training with Olympic sprinters such as Michelle Collins and Tasha Colander, part of a stable of post-collegiate athletes guided by St. Aug's Coach Williams, Juliet improved her outstanding personal bests to 51.95 for 400 and 23.02 for 200, from her collegiate bests of 53.9 and 23.26.

"When I graduated, a lot of good people were there to train with me," says Juliet, a native of Manchester, Jamaica, who placed third in the 400 at the 2000 Jamaican Olympic Trials but didn't qualify for the team. "I was a little fish in a big pond. I loved not being the best on the team. It was a good environment. After seeing how hard they work, it helped me work harder and improve."

Juliet, who is 33, lives in Raleigh with her husband of four years, Stephan Demeritte, and their 16-month-old son, Joel. Juliet works for a private company helping children with mental illness. She works with the kids and their parents in conjunction with state and local authorities to "find the children a better environment to live," says Juliet, whose parents still live in Spring Valley. Juliet also moonlights in the real estate investment business – buying, rehabilitating and attracting investors to rental properties in the area. "That's my retirement money," she says.
---