Howie McNiff - Albertus Magnus 1973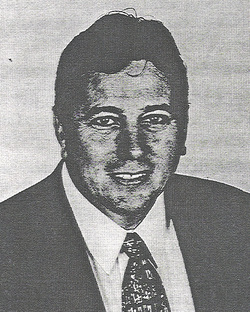 "Falcons' stoic star craves competition." That 1972 headline in The Journal-News aptly summarized Howie McNiff, who was always equal to a challenge. Some athletes perform best when there's nothing on the line, nothing riding on the outcome. Not Howie. The higher the stakes, the better he competed. Howie didn't run to establish fast times. He ran to win.

And oh, how he won. After suffering his lone defeat of the 1972 cross country season o nemesis Kurt Alitz of Highland Falls in the Section 9 Class B meet, the Albertus Magnus ace rebounded to defeat Alitz and capture the New York State Intersectional Class B championship over a sodden course at the Rochester Institute of Technology. He had the fastest time of the three races that day and sorely needed it; he nipped Alitz by a single second.

In the indoor track season the winter of 1972-73, Howie's competitive mettle again was on display. In the Bishop Loughlin Games two-mile run in New York City's famed 168th Street Armory, he upset Matt Centrowitz of Power Memorial – who later was a two-time Olympian – by less than a second. Howie's time of 9:09.8 missed the existing national flat-floor record for a 220-yard track by just six-tenths of a second. Later that season, he won the Section 9 State Qualifer on West Point's oversized 300-yard track in 9:07.3, a still-standing Rockland County record and the ninth-fastest time in New York State indoor annals under any conditions (as of 2010). He then added the state two-mile run championship at the indoor State meet at Cornell.

Howie completed his trifecta in the spring of 1973 at the outdoor State meet in the Buffalo suburb of North Tonawanda. Lagging in next-to-last place with a quarter-mile remaining in the mile run, Howie spread-eagled the field with a sizzling 59.8-second final lap that carried him to victory in a superb 4:15.1. With that win, Howie became the first runner in New York State history to win state individual titles in all three seasons of one school year.

Since Albertus did not take part in public high school sectional or intersectional competition until Howie's senior year, he was deprived of the opportunity to compete in state meets his junior year. He was widely regarded as one of the best milers in the state that year and would have had a legitimate shot at another state crown.

But there were plenty of other moments to treasure in the Howie McNiff highlight reel. In cross country, he won his division in the Eastern States Championships in 1972, set eight course records, and captured the Rockland County meet. In 1971, he led Albertus to the Rockland Public School Athletic League title with Neil Coleman and Steve Maloney, and was first-team All-County both years.

In indoor track, he was the Section 9 mile and two-mile champ in 1973 and also won the Cardinal Hayes Games two-mile. In spring track, he was the Rockland County mile champion two straight years; first-team All-County in the mile run and two-mile relay in 1972 and in the mile in 1973; the Section 9 Class B two mile and State Qualifier mile titlist in '73; undefeated in dual meets in '73; and runner-up in the two mile at the prestigious Penn Relays, losing only to a top runner from Virginia.

Howie's running career didn't cease when he graduated from the hallowed halls of Albertus Magnus. He earned a full scholarship to Fordham University and won 12 varsity letters. He recorded personal best times of 4:07 for the mile, a time bettered by only a handful of Rocklanders, and 8:50 for the two mile, second-fastest ever by a Rockland collegian. He also ran a 3:49 leadoff leg (about a 4:07 mile equivalent) on Fordham's third-place 4x1,500-meter relay at the 1976 Penn Relays. Fordham's time surpassed the existing national record.

After his college days, Howie ran several high-quality marathons in the late 1970s and early 1980s. In the 1981 New York City Marathon, he clocked 2 hours 24 minutes 11 seconds, the second-fastest 26.2-miler ever by a Rocklander.

Howie, who is 55 (as of 2010), has been a New York State Court Officer for 31 years. He is currently a Senior Court Officer based in Manhattan. He lives in Pearl River with his wife, Laura, and two sons, Brad, 22, a senior at Oklahoma State University, and Steven, 15, a junior at Pearl River High School. Ironically, Howie and Brad both ran under Coach Dick Weis, Howie at Albertus and Brad at Oklahoma State.

Howie is also a member of two other halls of fame. He was inducted into the Rockland County Sports Hall of Fame in 1998, and is also a charter member of the Albertus Magnus High School Hall of Fame, established in 1994.
---