Jim Ashcroft - Spring Valley 1964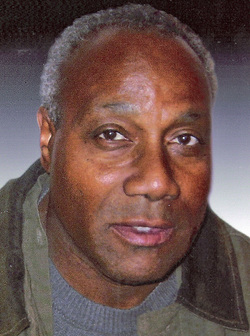 "Jimmy the Jet." That's what they called Jim Ashcroft when he was churning up cinders with those ground-eating strides at tracks around Rockland County,
leaving a trail of fellow dashmen in his wake. His name has been synonymous with sprinting brilliance since he rocketed into the county track consciousness as a Spring Valley High School sophomore in 1962. He went on to capture the New York State scholastic 100-yard dash crown in his senior year, 1964.

Rockland County had speed to burn in those days, with such notable names as Ashcroft, Don Clancy of Nyack and Sidney Allen of Spring Valley helping to draw unparalleled spectator interest to the local track scene.

These days, the world-record holder in the 100-meter dash lays claim to the lofty title of "World's Fastest Human." In 1960s high school track, the 100-yard dash was the event with the most name recognition. "How fast can he do the 100-yard dash?" The answer to that question settled a lot of arguments and established permanent bragging rights.

Jimmy the Jet earned those bragging rights when he won the 100-yard dash at the 1964 Rockland County championships in 9.5 seconds, a record that still stands. (The 100 meters replaced the 100 yards in high school competition in the late 1970s.) That day he also won the 220-yard dash in a fast 22.1 seconds and ran on the Spring Valley 880-yard relay foursome that also eclipsed the Rockland County record, running 1:33.2. He also high-jumped 6 feet his junior year, one of the top clearances in the county that year.

In basketball, Jim was a three-year varsity guard who earned first-team All-County recognition his senior year. He also was a three-year running back on the football team, and was chosen Spring Valley Athlete of the Year in 1964 as MVP in track, football and basketball.

"I enjoyed all three sports, though I excelled more in track," Jim said when he was inducted into the Rockland County Sports Hall of Fame in 1984. "It's an honor to know you've been recognized and that people remember what you did. A lot of great athletes came out of Spring Valley. I'm glad to be part of that tradition."

Jim went on to track and football glory at Florida A&M University, where, during his freshman year, he was a teammate of Bob Hayes, the 1964 Olympic 100-meter champion who became a star wide receiver for the Dallas Cowboys. Jim played flanker and defensive halfback for A&M, which was nationally ranked his freshman year.

But the cinder ovals were the venue of his most illustrious athletic feats. He anchored 440-yard relay teams that triumphed three straight years at the Penn Relays. The last of those victorious relays, in 1967, set a national record of 40.1, while the 1965 edition also won the 880 relays. His lifetime best in the 100 was 9.4, which he clocked to win at the Jesuit Relays in Tampa, Fla., in 1967. He graduated from Florida A&M with a major in physical education and a minor in history.

Jim then embarked on a 31-year career as a physical education teacher at Spring Valley High School. He continued his athletic pursuits after college by playing semipro football for the Rockland Warriors and the Spring Valley A's. For more than 20 years he held various head and assistant coaching positions at Spring Valley for spring track, indoor track and varsity football. He was inducted into the Spring Valley High School Hall of Fame and is now a director of that organization.

In the late 1970s and early 1980s Jim organized the Spring Valley High School Riding Club, a program for special education students. Once a month in the fall and spring he took children to a local dude ranch after school to enjoy the thrill of riding a horse, an experience the students cherished. He also has been a strong advocate of a Spring Valley student who is disabled, gaining employment for him and helping him live independently.

Jim, who is 64 (as of 2010), also was a longtime coordinator of the fall, winter and spring programs for the Village of Spring Valley's Parks and Recreation Department. He is now enjoying his retirement years and living in Stroudsburg, Pa.
---