Ervan Levine - Suffern 1937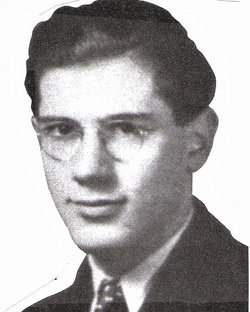 Who knows how fast Ervan Levine would have blazed had he stayed at Suffern High School for a fourth year. Ervan took summer-school classes in Nyack to fast-track his academic progress and graduated from Suffern in three years. Even without the benefit of a senior year, however, he dusted all of his Rockland County competition and ranked among the elite track athletes in the county during the pre-World War II era.

Ervan was undefeated in the 100- and 220-yard dashes in 1936 and '37, swept both events at the 1936 and '37 Rockland County championships, and anchored the winning 880-yard relay both years. He scorched the 100 in 10 seconds flat – which remained a Suffern school record for 34 years, until 1971. He also was a 20-foot long jumper and clocked a speedy 22.9 for 220. Ervan, whose nickname was "Label," served as team captain for two years and led the Wildcats to a share of the County team title in 1936. (Suffern teams had not yet adopted the moniker of Mountaineers or "Mounties.")

"He was a fabulous track star," says George Peterson, Levine's track teammate. "He didn't lose at all." Ervan also starred as a running back for the football team, scoring on touchdown jaunts of 72, 64, 43 and 38 yards, according to newspaper and oral accounts. His football coach, Ed Greene, even bought custom-made lightweight shoulder pads and football cleats to accent his fleetness. Only trouble was, the near-sighted Levine wouldn't always take the most direct route to the end zone. "Sometimes he wandered off the wrong way," Peterson says with a chuckle. "He couldn't see without his glasses."

Ervan later excelled in amateur competition for the Valkyries Athletic Club of Spring Valley, lowering his 100-yard time to a swift 9.6, according to his son, Robert. He competed against the showcase sprinters of the day, including the great Jesse Owens, to whom he lost in an AAU meet. [For his sprinting exploits, Ervan earned induction into both the Rockland County Sports Hall of Fame and the Suffern High School Sports Hall of Fame].

Upon graduating from Suffern, Ervan enrolled at New York University but later transferred to Washington University in St. Louis to take advantage of its highly regarded medical school program. Ervan ran track as an undergrad at Washington U. and won numerous medals against Missouri Valley Conference foes, according to Harris Levine of Suffern, who is not related to Ervan but knew him well as both families operated businesses in downtown Suffern. Ervan recorded several first-, second- and third-place finishes against teams such as the Missouri School of Mines, Illinois State Teachers College, Cape Girardeau and the University of Arkansas.

Ervan graduated from medical school in 1944 and began practicing medicine, first in Iowa and later back in Missouri, settling in the rural town of Vandalia, which is 30 miles southwest of Hannibal and 100 miles northwest of St. Louis. "He wanted to be a country doctor," says Jo Ann Lynn, one of Ervan's two daughters. "He was a very devoted doctor. If he got a call in the middle of the night, he wouldn't hesitate – he would zip right out the door. Early in the morning he would make rounds at two different hospitals and at noon he would visit all the shut-ins. He was a one-man social service agency."

Although Ervan hung up his track spikes when he embarked on a career in medicine, he continued to maintain a lifelong love of music. He was a member of the Suffern school orchestra and often clambered up to his attic to practice the violin, Harris Levine recalls. He later became an accomplished saxophonist and paired up with Jo Ann for impromptu duets, he on the piano and she on the oboe.

Ervan and his wife, Geraldine, had three children: Jo Ann, 64, a retired social worker for the Department of Defense who lives in Washington, D.C., with her husband, Joel; Sharon Hudnall, 62, a registered dietitian who resides in El Paso, Texas, with her husband, Ken; and Robert, 59, a promotional-products salesman who lives in Manchester, Mo., with his wife, Leslie.

Ervan served as a Mobile Army Surgical Hospital (MASH) doctor in the Aleutian Islands in Alaska during World War II. During his tour of duty, he contracted osteomyletis, a bone infection, in his hip, a condition that also weakened his heart, Jo Ann says. He suffered a fatal heart attack in 1960 at the much-too-young age of 40, in the prime of his medical career. The night before he died, he had stayed up all night to minister to a patient bleeding from complications with a pregnancy. "He didn't sleep for 48 hours," Jo Ann says.

The woman later gave birth to a healthy baby, thanks in large measure to the compassionate care of Dr. Ervan Levine.
---