Harry Jackson - Spring Valley 1933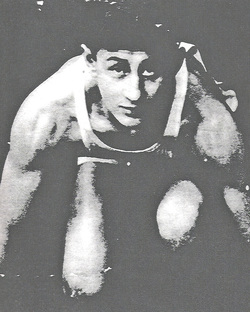 Perhaps no track athlete in the first half of the 20th century brought as much glory to Rockland County as Harry Jackson. How many high school-age runners can say they gave the mile world record-holder a run for his money?

Harry Jackson could. Jackson attended Spring Valley High School from 1931 to 1933, leaving school after his junior year to assist his family during the Depression. In 1934, in what would have been his senior year, he was entered in the mile at the New York Athletic Club meet at Travers Island in New York City. Harry ran the mile in 4 minutes 14.6 seconds (on a handicapped start) to finish a close second to then world record-holder Glenn Cunningham of the University of Kansas.

Not bad for a short, barrel-chested lad from Hillcrest. Raised on a farm, Harry reminisced several years ago about his innate love of running, which was given free expression on the milk routes he ran as a child. "I was always running to make my deliveries, carrying the milk bottles in both hands," he told The Journal-News in 1983. "I'd hop off the running board of the milk truck and run back. It was just natural to me."

All that running was good preparation for the athletic career he was to produce. After becoming the first Rockland runner to break 5 minutes in the mile, Harry was recruited by the renowned Millrose Athletic Association at the New York State meet in Schenectady his junior year. He was approached by Mel Sheppard, the Millrose coach and the last American to capture an Olympic gold medal in the 1,500-meter run (the metric mile), back in 1908.

"When Mel Sheppard came over to me and asked me if I wanted to join, I almost fell off my stool," Harry remembered in the 1983 Journal News interview. "It was the biggest thrill of my life up to then."

There would be many more thrills to come, however. One year after his duel with Glenn Cunningham – and with another year of seasoning under his belt – Harry was the third finisher for the Millrose AA's championship team at the AAU National Cross Country Meet held on a 6 ¼-mile course.

Harry's running career was prolific, to say the least. He never met a challenge he didn't like. He won the popular Fourth of July Corporate Race, a 1.6-mile run in Spring Valley, five straight years, 1931-35. At the Old Home Week meet in Haverstraw, he won four races in one meet: 440, 800, mile, and the featured race, the grueling 5.5-mile run to High Tor Mountain and back. In a career that spanned 17 years, from 1931 to 1948, Harry estimated that he competed in 680 races and won 250 of them, finishing second and third in a majority of the others.

He was a founding committee member of the Rockland County Sports Hall of Fame in 1974 and remained with that organization until his death in July 2000, at age 85. He was inducted into that Hall of Fame in 1977. He was also named to the Rockland County All-Century Cross Country team in 1999.

Harry was a well-known grave digger and cemetery maintenance landscaper in Rockland for more than 40 years. He was assisted by his family, including sons Harry Jr. and Gene. Harry and his wife, Carolyn, who died in 2007, lived for 63 years in their State Street home in Hillcrest. They also had two daughters, Maureen and Betty.
---