Marvin Miller - Suffern 1954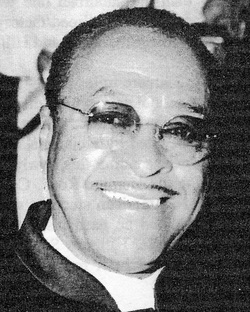 When Joe St. Lawrence became the Suffern High School track coach in the late 1940s, he immediately went on a search for talent to cover all the events in the program. The former Sayville and Cortland State track and football star had a burning, contagious enthusiasm for track and field and from his first day on the job, he had his focus on developing talent in every event. The Ramapo Central School District of the early 1950s was a very different community than the suburban one we know today. It was very parochial, and its reach included not only the railroad/factory village of Suffern, but the rural pockets of Tallman, Airmont, Viola, Sloatsburg and Hillburn.

The tiny village of Hillburn – all 2.2 square miles of it – had recently just been through the challenging social struggle of a school segregation dispute in the 1940s that resulted in the State Education Department commissioner's ruling integrating the schools in the village, which had been clearly segregated by racial makeup of the neighborhoods. By the early '50s the Hillburn School was sending this newly integrated group of students into the new Suffern High School up on Hemion Road. Coach St. Lawrence saw a rich talent source in the black and Native American students who before this time were not especially encouraged to participate, and he used his enthusiastic energy to get them involved in sports as quickly as possible. Hillburn School had always produced great athletic talent. The integrated Hillburn School made it even greater and "Joe Saint" tapped that resource immediately.

One of those young athletes who got involved during this era was Marvin "Dinger" Miller. He was light, strong, agile, acrobatic and swift. He also had good jumping ability. It just so happens that these are all the athletic attributes necessary to be a good pole vaulter. His success in the event was not immediate; his progress was gradual and sequential over four seasons dating from 1951 through 1954. He finished his sophomore season in 1952 with a victory in a dual meet with Ramsey where he cleared 10 feet 7 inches. The year 1953 proved to be his "breakout" season. On April 27 in a dual meet with Nyack he cleared 11 feet, the first of seven times he bettered that height in that season. During the 1953 campaign he was undefeated in dual-meet competition, was the champion of the Hudson Valley Relays (11-2 1/2), and Section 9 Class B champion. His only loss of that season was a second place to his teammate (and fellow Hillburn resident) Preston Pulis of the Mounties.

Miller and Pulis both got to represent Section 9 in the New York State Public High School Athletic Association's state championship held at West Point on June 6, 1953. Both of these fine Suffern athletes cleared 11-3 that day to tie for the New York State championship title. Because they were from the same school, they did not have to break the tie. By today's rules, regardless of sharing a school affiliation, these two athletes would have been forced into a jump-off to win the championship outright.

The 1954 track season was even more stellar for Miller. He was undefeated in competition throughout the season until the New York State championship. In less than three months he accumulated eight more jumps in excess of 11 feet, four of them above 11-6, and a personal best of 12 feet that became the Suffern High School team record for nine years until broken by fellow Hall of Famer Tim St. Lawrence. Miller was Rockland County champion establishing a new meet record of 11-6 1/2, Section 9 Class B champion at 11-6, and was runner-up in the New York State championship meet with his school record jump of 12 feet.

These records must be appreciated within the context of the times they were made. This was the era of vaulters using steel, aluminum and bamboo poles to ascend their heights. The world record in June 1954 was but 14-9 1/2, held by the Rev. Bob Richards. In the 1960s the pole vault would undergo a revolutionary transformation with the introduction of fiberglass poles that, with their extraordinary spring and flexibility, completely changed the technique of pole vaulting, greatly increased the heights that could be reached, and required a new and different skill set for the athletes. The 1960 Olympic champion Don Bragg, the last of the steel-pole world record holders at 15-5, used to say that good vaulters gained a 13-inch advantage by switching to fiberglass poles. If you look at it all in this context, Marvin Miller's accomplishments for a scholastic pole vaulter were extremely significant for this era.

Over his four years on the Suffern track team he also participated in the high jump. In 1953, he was third in the Rockland County championships. In 1954, as with the pole vault, he enjoyed his greatest successes in the high jump. After finishing second in the Rockland County championship meet that year, he went on to become Section 9's Class B champion with a jump of 5-11. He duplicated that effort in finishing fifth in the 1954 New York State meet, where he had his record-breaking pole vault performance.

While he had only one Rockland County championship to his credit, he had an outstanding and enviable record of being a New York state champion and three-time Section 9 champion, while capturing one Hudson Valley Relays championship, setting a Rockland County meet record and a Rockland County overall record, and recording 15 jumps over 11 feet – – the most in Rockland County track history through 1955. He became the second pole vaulter in the county to clear the 12-foot mark, Charlie Serra of Spring Valley being the first in 1952.

Marvin Miller's legacy as a Suffern High School record-holder continued 25 years later. In 1979, his daughter, Lori Miller (Suffern class of '79), set a Suffern school record in the discus throw of 107 feet 9 inches that she (like her dad) also held for nine years before the mark was broken by Kathleen Lyons (Suffern '88). Just so everyone knows for the record, Lyons was from Hillburn as well.

Marvin Miller, a retired biological technician, now resides in Warwick, N.Y.
---