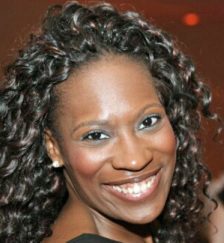 MISTY SCOTT

SUFFERN 1999

The Ramapo Valley had produced an abundance of track and field talent over the previous five decades. The tiny villages of Hillburn and Sloatsburg, as well as the hamlet of Ramapo had churned out a small legion of Rockland County champions when you consider the size of their respective populations. The 1990s dawned and nothing changed. Misty Scott of Suffern High helped to lead this legion in its traditional charge to excellence.

Misty Scott began her involvement in track at Suffern Middle School. "I was pretty fast as a kid in elementary school." she recently related. "So when my neighbor went out for the track team, I did, too." That was the small beginning to a star-studded flourish of her athletic achievements from 1996 through 1999.

Her freshman year gave a clear indication of her potential. In the indoor season she won the League 300-meter dash and was third in the Rockland County championships at 300 yards. Outdoors she managed a fifth-place finish in the Section 1 Class A 200 meters in a very competitive field. She got her first taste of the New York State championships at SUNY Buffalo that June when along with her teammates Marisa Jackson, Jessica Bernstein and Nadia Johnson competed in the 4x100-meter relay. She came home with a fourth-place medal – her first of many to follow.

The next three years were spent stuffing her dresser drawers full of medals she won as a result of her achievements. Indoors, she won outright or shared as a relay member nine Rockland County championships, was individually three times a State Qualifier, one time a Sectional champion, and in 1999, she was the State indoor champion at 300 meters in a time of 40.11 seconds. Indoors she had a total of four New York State medals along with the significant pile of others she earned over four years.

That 1999 indoor season brought about one of her personal highlights in track and field. "The race I really remember was the 400 at the Indoor Nationals on that blue track [at the Reggie Lewis Center] in Boston! I got second, and I lost it just at the finish line. My memory is that I wasn't disappointed. I just looked over to Mr. Biddy and shrugged my shoulders. I did all that I possibly could, I was satisfied that I gave it my all." Her effort produced a silver medal and a time of 56.57 seconds that set a County indoor record that stood for eight years.

Her achievements in the outdoor season were just as prolific. She was a three-time Rockland County champion in both the 200-meter and 400-meter dashes. In Rockland County relay events, she and her teammates won a 4x100 championship in 1996, and then went on a tear winning three consecutive championships in the 4x400 relay from 1996 through 1998.

In her senior season in 1999, her 4x400 team won a plaque at the Penn Relays in 3:56.02. Coming off that great indoor performance in Boston, in the outdoor season the 400-meter dash became the focus of her achievements. From the last month of the season she was undefeated in the event, winning the County, Section 1 Class A, and the State Qualifying meet. In the Class A Meet, she ran a stunning 54.9 seconds, which set a Rockland County record that stood for 15 years until broken by Suffern's Kamryn McIntosh in 2014.

At the State championships in Kingston that year, she capped off her career winning the New York title at 400 meters in a time of 55.13 seconds. "I really don't remember that as much. I do remember Meghan [Howell, her teammate, who won the 1500 meters] winning and being happy about that."

When asked about what she thought she got out of track and field, she was animated in her reply.

"I loved what I did; it was fun! It is crazy to think about it now. I had an amazing support system at Suffern. All of the coaches on the staff were great and always encouraging us. I think one of the best things I got out of it all was in knowing and finding out your strengths as an individual. Also, I loved the teamwork. That was a big thing as well. I just want to thank everyone for their support in helping me develop as a runner and a person, and for having a great time doing it."

Misty Scott went on to compete at the University of Nebraska. She is currently working as a registered nurse at Good Samaritan Hospital in Suffern, where she resides with her 11-year-old daughter, Madison.


---