Preston Pulis - Suffern 1955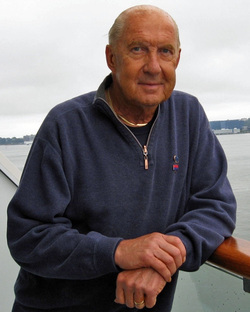 Preston Pulis came up to Suffern High after attending the Hillburn School. He was a tall, rangy, agile, powerful and fast athlete. Coach Joe St. Lawrence saw a vast potential in him as a track athlete. His physical attributes and his natural skills showed that he could be a versatile asset on any track team. In many a conversation over the years with Coach St. Lawrence, we came to appreciate "the Saint's" respect and enthusiasm for those who attempted the decathlon. When we asked him out of all his athletes who he thought would have been the best raw-talent decathlon prospect, he immediately replied, "Probably Preston Pulis." While Pulis never did the decathlon, as a high school track and field athlete he demonstrated tremendous versatility and excelled at one of the decathlon's more difficult events, the pole vault.

In dual meets, Pulis ran the 100- and 220-yard dashes, the 440-yard relay, and the 880-yard relay. He had personal bests of 10.5 seconds in the 100-yard dash, 24.1 seconds in the 220-yard dash, and was a member of the 880-yard relay team for Suffern that won the Section 9 Class B championship in 1952. He also dabbled in the high jump and the shot put several times.

Where his star shone the brightest was in the pole vault. He took to the event like a fish takes to water, while clearing the 10-foot mark as a freshman and winning his first varsity letter. Together with his teammate and stiffest local competition, Marvin Miller, they dominated the event in this area for three successive track seasons. In 1953 he began to hit his stride in the event at the same time as Miller did. Usually Miller edged him for first place, but they tied on several occasions. Rules back then did not require a jump-off or tiebreaker if athletes were from the same school. Pulis won the 1953 Rockland County championship over Miller, producing his personal best of 11 feet to win it outright. The dynamic duo tied again at the Section 9 Class B championships.

At the NYSPHSAA championship meet held at West Point the next week, Pulis again had a new personal best of 11-3 to again tie his teammate Marvin Miller to share the New York State championship!

The 1954 season followed a similar pattern. When Pulis was not in a tie with Miller, he was taking second place to him and consistently over the 11-foot mark all year long. The highlight for Pulis in the 1954 season was in winning the championship of the always- competitive Englewood Relays in a career personal-record performance of 11-9. He went on to place sixth at the New York State championships at 11-6, three inches better than his winning performance of the previous year.

In his senior season of 1955, he was undefeated in competition, winning both the Rockland County and the Section 9 Class B championships.

So all in all, Preston Pulis achieved a great record in track and field. He had two Rockland County meet titles, one New York State title, three Section 9 class meet titles (including one relay), and one Englewood Relays title. He recorded 13 jumps over 11 feet, the second most in Rockland County history through 1955.

The most interesting note is the fact that his most serious rival in competition throughout his competitive career in the pole vault was his Hillburn neighbor, teammate and co-inductee in this year's Hall of Fame, Marvin Miller. Against Miller only, he had 4 wins, 9 losses and 11 ties. Over two years of his competitive career, outside of the New York State championship meet, he lost to no one but Marvin Miller!

Again, these performances must be seen in the context of the times they were posted. The world record for the pole vault in 1955 was 14-9 1/2. A good high school jump was 10-6. If you cleared 11 feet you were winning most high school meets of that time. This was the era of steel and bamboo poles, before the fiberglass pole was introduced in the 1960s, revolutionizing the event and allowing athletes to go much higher. It was also before vast landing systems were invented to brace the shock of landing after a high vault. Preston Pulis fell 11 feet 7 inches from the sky into a pile of sand and sawdust. Today an athlete falling the same height lands on a cushioned mattress in comparison. When you think about it, these performances from high school athletes at the time were truly extraordinary.

Beyond his track prowess, Preston Pulis was a winner of 10 varsity letters as a Suffern Mountie, four of them in track and field. He was an All-Rockland County selection in three sports – as a football running back and return specialist, as a basketball guard, and as the track and field athlete we have described. He has also been a member of the Suffern High School Sports Hall of Fame since 2002. Preston currently resides in Upper Saddle River, N.J.
---