Howard d'Olivier Allen - Spring Valley 1982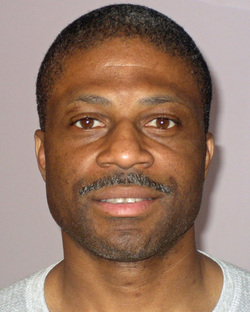 Although he had won the New York State scholastic indoor long jump title as a junior, Howard d'Olivier Allen was not satisfied to rest on his laurels. Nor were his coaches at Spring Valley, Betsy Evans and Jim Ashcroft. The summer before his senior year, Howie attended a track camp at West Point where Army's jumping coach taught him the hitch kick. Learning that technique not only helped propel Howie to another state championship – it also catapulted him into the No. 1 position on Rockland's all-time long jump registry.

His outdoor County record of 24 feet 1 ¼ inches came en route to winning the long jump at the 1982 Loucks Games, while his indoor Rockland mark of 23-8 was good for gold at the '82 State meet. Both records celebrated their 25th anniversary during Howie's induction year (2007), and the indoor standard still ranks in the top 15 statewide (as of 2010).

Howie attributes much of his success to Betsy Evans' continual quest to help her athletes improve. "It was her ability to seek out and find ways for us to learn, through new techniques, books," says Howie, who stands 5-foot-8 and weighed 137 pounds in his prime. "She spoke to coaches all over the country to find the best ways to do things, from the pole vault to race walking and everything in between. And even bringing me along as a person, she was very helpful also."

The 1982 outdoor season brought numerous accolades to Howie, including a long jump-triple jump-high hurdles sweep at the County meet; the long/triple jump double at the Loucks Games; and a sixth-place finish at the U.S. Junior Nationals. His personal best of 14.2 in the hurdles remains in the top 10 all-time in Rockland and his 46-8 ¼ in the triple jump is outside the top 10. Indoors, he long-jumped to a runner-up finish at the Easterns in addition to his back-to-back State meet victories.

"The first time I won the indoor State meet [at Cornell], I remember having an excellent first jump and I took it all the way through" to win, says Howie, who sported a stylish look of one orange sock and one black sock – Spring Valley's colors. "The jumping surface was a wooden platform. It was very different from what I was used to. But it was rather comfortable. The board had a little give to it, like you were running on a takeoff board all the way down. Then in my senior year, I was expected to win. There was a little more pressure" – and he responded with his indoor best of 23-8.

Howie moved to Spring Valley from his native Kingston, Jamaica, at age 7. He inherited some running ability from his father, Delsford, a former half-miler, and enjoyed racing against his neighborhood friends in the Wood Street area of Spring Valley. However, "I wasn't even close to being the fastest kid on the block," he says, rattling off names like the Pinkstons, the Thompsons, Al Park and Dave Cadet as the swiftest afoot.

He also had plenty of speedy teammates at Spring Valley, classmates like Delroy Brown, Tyrone Poole, Mike Cadet and John Adkins, whom he teamed with for some slick 4x100-meter relays. "I trained with them every day. Without these guys I wouldn't be anything," he says modestly. "When we had extra workouts, they were always helping me run hills; they were always there." He also credited older teammates like Alex Desamour, David Peterkin, Todd Thaxton, Lloyd Jack, Glenn Payne and Wayne Simms, as well as the younger Orville Lyttle.

After high school, Howie moved to North Carolina and served in the U.S. Marine Corps from 1985 to 1991, first at Camp Lejeune, N.C., and later in Hawaii. He attained the ranks of sergeant and continued to compete with distinction through the late 1980s. Twice he finished second in the U.S. Armed Forces championships to qualify for the international Military Olympics, with a personal best of 25-5. He also placed third in the 1988 Jamaican Olympic Trials but fell shy of the mark needed to qualify for the Summer Games in Seoul.

While in North Carolina, Howie lived near his older brother Danvers, a former professional soccer player. Howie, who is 46 (as of 2010) and a self-employed electrician, now lives in Kingwood, Texas, with his wife of six years, Debbie Grant, herself a former Ramapo High star and fellow member of the Rockland Track & Field Hall of Fame. Howie – who now goes by his middle name, d'Olivier – and Debbie have a daughter, 5-year-old Olivia, and Debbie has two sons ages 19 and 12 from a previous marriage.
---