Louise Formon D'Agosta - Tappan Zee 1978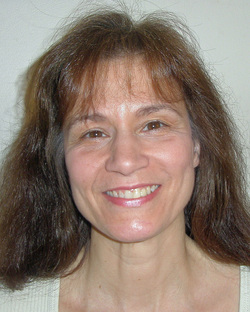 Louise (Formon) D'Agosta was one of the pioneering girls' distance runners in Rockland County. At the urging of her good friend and fellow runner Lisette Hautau, Louise joined the South Orangetown junior high boys' track team as a seventh grader since there was no girls' team at the time. Running with the boys' team for the first few years, she laid the groundwork for what would become a gold-plated career at Tappan Zee.

The record book was a blank slate when girls' track became an officially sanctioned sport in the mid-1970s. Trailblazers like Louise established marks that would set the standard for all those who followed. Many of those records stood the test of time, such as Louise's 5:12.4 indoor mile in 1977, which remained on the Rockland all-time top 10 list for almost two decades.

In the embryonic years of girls' track, Louise was credited with New York State mile records indoors and out. As a freshman in 1975 she clocked 5:20.8 for an indoor state record, and lowered the outdoor state mark three times in '75, bringing it down to 5:18.7 at the Section 9 meet.

Louise was also the first Rockland girl to break 2:20 for the 880-yard run, clocking 2:19.8 en route to victory in the 1976 Section 9 meet. The previous week she had won the County meet in 2:20.2. Indoors she posted County records in the 880 (2:26.3), 1,000 yards (2:46.8), 1,500 (4:49.0) and mile (5:12.4). In all, Louise collected five County titles and three Section 9 crowns. She competed in the first New York State girls' championship meet in June 1975 at West Point, clocking 5:26 in the mile but not placing.

Louise was one of a small group of marquee girls' distance runners of the era, along with teammate Lisette Hautau, Brenda Saunders of Clarkstown South and Diana Halpin of Monroe-Woodbury, among others. During the winter they traveled to wherever the competition was, competing in meets such as the Colgate Women's Games and St. Francis Prep Games in New York City and AAU Regional meets at West Point.

She showed glimpses of her running prowess right from the start. Although initially intimidated by having to run with the boys, Louise came to feel more comfortable as they welcomed her onto the team. As an eighth grader, she was the highest point-scorer for Coach Ted Rorick's junior high team. As a freshman, she again competed for the boys' team and clocked a 5:17.8 mile in a freshman boys' race during a winter-track outdoor meet at Albertus Magnus. Her time was faster than the listed state record, but since the meet was unofficial her mark could not count as a record.

"That was the very first time I ran a mile," says Louise, who had a season of cross country under her belt by that time. "I wanted to run the 440, but my coach told me to run the mile. I had no idea of pacing. I went out with the boys the first two laps but it was too fast and the boys on my team told me to slow down. I would have died otherwise."

Louise received expert guidance from TZ coach Bob Zucker, who mentored her when she trained with the boys' team and in separate workouts with Lisette Hautau, a fellow Hall of Famer. Zucker created workouts designed specifically for the two distance stars and had them maintain daily logs recording not only their running but also variables such as pulse rate, diet, weight and sleep – all the factors that would affect running performance. "The things I learned from him stayed with me," Louise says. "He had a tremendous impact on me throughout my life."

Louise continued competing at Duke University, albeit as an independent runner because the school did not field a women's team. Highlights of her post-scholastic career included a women's open division-record 4:44.8 for 1,500 at the 1980 Hudson Valley Region trials for the Empire State Games, and a women's open-winning 17:58 for 3 miles at the Manchester (Conn.) Community College New England Relays, also in 1980.

Louise, who is 50, resides in Oak Ridge, N.J., with her husband of 18 years, Peter, and their two boys, Nick, 15, and Brian, 13. Louise worked in sales and marketing before having children and, after staying home for several years to raise her sons, later held a part-time position as manager at a developmental sports and gymnastics center for kids.

Although a chronic back condition short-circuited her competitive career soon after college, she hasn't let it prevent her from enjoying a fit and healthy lifestyle with a regimen that includes biking for an hour each day.
---