Andy Kohlbrenner - Pearl River 1981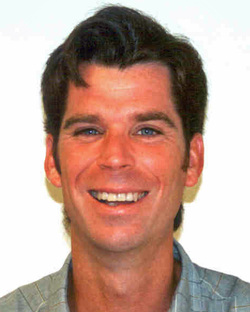 Andy Kohlbrenner didn't really start winning races when he was old enough to walk. It only seems that way. Can anyone remember a time when Andy was not breaking finish-line tapes, kicking past beleaguered opponents or adding yet another trophy to his bottomless collection?

Following in the fleet footsteps of his brothers Mike and Matt, Andy kept the Kohlbrenner name in headlines at Pearl River with a string of gold-plated performances over four years. The pinnacle was his junior-year triumph in the 1,600-meter run at the 1980 New York State indoor championships at Cornell. Always a fast closer, Andy found an otherworldly gear in the last 150 meters to go to from third to first, barely outleaning Brooklyn Tech's Jeff Bradshaw in a tingling photofinish. Bradshaw was Millrose Games high school mile champ that year and hadn't lost all season.

"With a lap to go I expected to finish third," says Andy, who brought the crowd at Cornell's Barton Hall to its feet. "I always had a decent kick, but this was my best finish. I overtook him in the last five meters. [Pearl River coach] Tom Doherty was telling me, 'Don't get so excited, I'm not sure you won,' but I knew. I had the acceleration and he was just trying to hold on."

The making of a state champion began, in Andy's case, in fifth grade when Doherty took Andy and other Pearl River kids to Van Cortlandt Park in the Bronx to compete in age-group cross country races. Two years later, at Pearl River Middle School, Doherty and fellow phys ed instructor Julius "Dag" D'Agostino pegged Andy as a future star when he ran the most laps around the driveway circle during the 12-minute run in gym class and blazed through the 1.1-mile cross country run on the school's fitness trail. "He was preordained – his last name was Kohlbrenner," Doherty says. "We knew that when you're a Kohlbrenner, he was going to be good."

Andy joined cross country and instantly showed big-time promise. As a freshman he was a top-five scorer for the Pirates' state fifth-place team under coach Bob Wood, who also gave his prodigy ample opportunity to shine in frosh races. A pair of memorable two-mile races that year also stamped Andy for greatness. He placed fourth in the Section 9 indoor state qualifier in 9:47.5, just missing the state freshman record; and he clocked 9:41.3 on Pearl River's cinder track in a dual meet against North Rockland, pushing North Rockland ace Steve Hostomsky the entire way.

Andy often found himself matching strides with local elites like Hostomsky, North Rockland's Todd Sinclair and Suffern's Jeff Van Wie. He counts among his highlights a 1980 indoor mile victory over Sinclair in the Rockland Invitational at RCC when he dropped his time from 4:26 to 4:20. In fact, Andy reeled off a string of mile races that season in the 4:20-4:21 range, a model of high-octane consistency.

In the spring of 1980 Andy won the County 1,500 and shared the 5,000 title with teammate Tom List. He also finished second in the Penn Relays 1,500 in 3:56.3, the second-fastest ever in Rockland. He credits Rich Michalski, an unofficial assistant at the time, for providing invaluable advice on running technique and strategy that season. As a senior Andy finished third in the State 1,600 indoors and ran 4:03.6 for 1,500, then a County record and still No. 4 all-time. In the spring he repeated as County 5,000 champ in a meet-record 15:14.9 and swept the 800 and 1,500 at the Section 9 meet.

When he graduated Andy held eight individual school track records – the indoor 600, 1,000, 1,500, mile and 3,000, and the outdoor 1,500, 1,600 and 5,000 – and was a member of four school relay records.

In cross country, Andy finished second in the 1980 Federation team race and fourth in the 1979 State Class B meet, won the 1980 Section 9 Class B race at Bear Mountain in a then-County record 15:00.9, and recovered from an early-race spill to finish sixth and help lead Pearl River to the 1980 State Class B crown. He also was a key cog as a sophomore in the Pirates' State and Federation championship teams in 1978.

"Andy was always at his best in the big-time races," Doherty says. "He was tremendously consistent in all three seasons. Nobody more deserves to lead the Pearl River contingent into the Rockland County Track Hall of Fame than Andy Kohlbrenner."

After a year-plus at Wake Forest, where he ran a 4:11 mile, Andy transferred to Div. II Southern Connecticut. There he found a welcoming team environment reminiscent of his Pearl River days, nurtured by coaches Will Wright and Jack Maloney. Highlights included superb indoor 1,500 times of 3:53.5 – which won the Regionals his junior year and earned him a trip to Div. II Nationals in Fargo, N.D. – and a school-record 3:51.9 at Yale his senior year. Unfortunately, a knee injury suffered immediately after that race wiped out the rest of indoors and most of his spring season.

Andy's post-collegiate career has spanned more than two decades of high-quality track, cross country and road racing. He has posted excellent personal bests of 8:18.9 for 3,000 meters, placing third at the New York vs. Boston indoor dual-meet challenge; 14:15.8 for 5,000 outdoors at the North Carolina State Invitational, and 30:30 for 10K on the roads, placing third at the Ridgewood Memorial Day Race. In addition to winning or placing high in countless road races with numerous sub-15:00 clockings for 5K, he owns the sixth-fastest time (14:46 for 3 miles) at the Rockland Alumni Cross Country Run at Bear Mountain.

After graduating from Southern Connecticut with a degree in sociology, Andy entered the field of mental-health social work. For the past 15 years he has worked at Jawonio and currently serves as associate director of psychiatric rehabilitation services in Rockland and Westchester. Andy also took up coaching right out of college and led Clarkstown South to the County and Section 1 cross country titles in 1994, among many other top-three finishes. At South he identified and recruited Mike Schroer, who became a national indoor scholastic 800 champ, college star at Georgetown and Olympic Trials qualifier, and developed several other state-caliber runners, such as Paul Sklar and Pete Modafferi. He has also coached at Felix Festa Junior High, Pearl River High School, Dominican College and St. Thomas Aquinas College.

Andy and his wife, Kelly, have been married 16 years and live in Sparkill with their four children: Caile, 14; Conor, 13; Cara, 10; and Christy, 5. Caile and Conor run track (among other sports) for their school teams and Andy, who's 44 and still competing well, says, "I'm getting up there but I'm still one step ahead of my kids."

Andy was inducted into the Pearl River High School Sports Hall of Fame in 1998, and was chosen to the Rockland County All-Century Cross Country team in 1999.

---