Quana Phillips Torres - Spring Valley 1992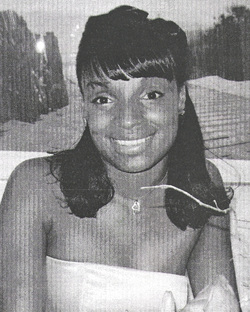 Quana Phillips needed to be continually challenged to bring out her best. At one point during her senior year, Quana was strongly prodded by her coach at Spring Valley, Betsy Evans. "I told her, 'Maybe that's all there is,'" says Evans, trying to push Quana past a sticking-point plateau in her triple jumping. "Right after that she jumped 40 feet. Any kind of competition, she thrived on."
Quana quickly developed into a top-flight jumper and sprinter for the Tigers after joining the track team her freshman year. "Some of my friends were going out for track and I wanted to be part of it," she recalls. "I was able to have some success early and that helped keep my interest."
Her success snowballed from sophomore year onward. By the time she graduated from Spring Valley in 1992, Quana had bounded her way to triple-jump stardom and a berth among Rockland's all-time greats in that event. Among her many highlights are the following:
Two New York State championships – in the winter and spring of her senior year. Her winning mark in the spring of 40 feet, 8 ½ inches ranks seventh all-time in the state.
The National Scholastic indoor championship in the winter of 1992.
Fourth-place finishes in the '92 outdoor season at both the U.S. Junior Nationals in Ohio and the Golden West Invitational in California, and third place at the Keebler International in Chicago. Her mark at the Junior Nationals, 40-9 ½ (wind-aided), was a County record and currently ranks No. 2 all-time in Rockland.
New York State Sports Writers Association Athlete of the Season and WRKL/Bank of New York Athlete of the Season, Winter 1991-92.
A winning jump of 40-4 ¾ at the Rockland Coaches Invitational indoors in '92, the first 40-foot jump by a Rockland girl under any conditions. The distance bettered the existing state record but could not count for record purposes due to a low sand level in RCC's jumping pit.
Empire State Games scholastic division gold medals in the triple jump and long jump in the summer of 1991.
Quana also won nine Rockland County championships over three years, encompassing six events: 200 meters, 300 yards (twice), long jump, triple jump (twice), 400-meter relay (twice) and 800-meter relay. When she wasn't winning the jumps she was finishing second to her closely matched rival, Sharline White of Clarkstown South. The tug-of-war for jumping supremacy between the two proud champions formed one of the greatest rivalries in Rockland girls' track & field annals.
"Having Sharline there made it more exciting – it pushed both of us to do better," Quana says. "When I initially started triple jumping, I did it because it was something I was good at. But once the attention came off the track and onto the infield, with [herself and Sharline] the attention-getter, that's when it became real for me. We would go head and head and we'd always go one-two, either way. We weren't best friends but we respected each other for our given talents [and level of performance]."
True to her competitive nature, Quana remembers her losses with as much clarity as her victories. The most stinging defeats were her bridesmaid efforts to White in the 1992 Loucks Games long and triple jumps. "That was the biggest rivalry meet. I really wanted that trophy," Quana says, referring to the bronzed Olympian statue given to Loucks gold medalists. "That was my biggest disappointment."
On the County career performance lists, Quana ranks second in the triple jump indoors (40-4 ¾) and outdoors (40-9 ½), No. 5 in the long jump indoors (18-3 ½) and No. 7 outdoors (18-7 ¼).
"She's probably the toughest competitor – male or female – I've ever come across," says Evans, who coached state-caliber jumpers such as Howie Allen and Sammy Wilcher. "When she has a goal in mind, nothing gets in her way. She continues to work and work and keeps going until she gets there." Quana, in turn, calls Evans her "role model and mentor. I looked up to her."
After graduating from Spring Valley, Quana earned a full track scholarship to the University of Houston, whose jumping program under Coach Tom Tellez developed Olympic champion Carl Lewis and many other premier athletes. However, lower-leg injuries and a pregnancy disrupted Quana's progress in track, and after two years in Houston she returned home.
Quana attended Rockland Community College and Orange County Community College, and then transferred to William Paterson University in Wayne, N.J., graduating with a degree in physical education and health. She earned a master's degree in counseling in 2006 from New Jersey City University in Jersey City.
For the past eight years Quana has been a physical education teacher at J.F. Kennedy High School in Paterson, N.J. In recent months her family life has been moving at fast-forward speed. She married Angel Torres last Dec. 31 in Puerto Rico, and delivered a baby boy, Sean Luis Torres, on Feb. 15. Next month Angel deploys to Iraq for a 13-month tour of duty with the U.S. Army National Guard.
Quana, who's 34, lives in Saddle Brook, N.J., with her husband, baby son and 14-year-old daughter, Jamelia Johnson. Jamelia is a ninth-grader at Passaic County Tech who last year was Bergen County eighth-grade champion at 400 meters.
---