Larry Gardner - Spring Valley 1986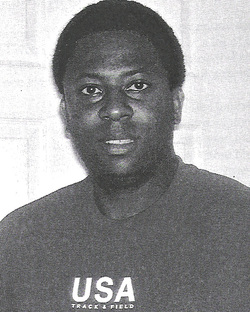 The 39,000-plus spectators were in full throat when Larry Gardner got the baton on the anchor leg of the Olympic Development 4x400-meter relay at the 1990 Penn Relays. Running for the unheralded Shore AC of New Jersey, Larry closed a five-meter deficit, swung wide off the final curve and powered past Gary Duncan of the Florida Clippers, a previously unbeaten national team bankrolled by George Steinbrenner.

Larry's 44.7-second clocking – the second-fastest 400-meter split of the meet – gave Shore AC the upset victory in 3 minutes 3.64 seconds, the fastest 4x400 of the meet. On one of the grandest stages in track & field, the former Spring Valley star showed he belonged with the elite quarter-milers in the country.

"Nobody expected us to do anything," says Larry, who was joined on the relay by former Spring Valley teammate Sherwin Sterling, (45.7), Rod Tolbert and Ian Jones. "That race made me feel like I could run with the big guys. After Penn, I was put into that kind of competition more and more. I became confident I could run those times."

No Rocklander has ever circled the 400-meter oval faster than Larry Gardner. He blazed 45.43 seconds in the trials of the 1990 USA/Mobil national championships, and placed sixth in the final in 45.53. The year 1990 was certainly a vintage one for the 5-foot-9, 155-pound sprinter. He captured the U.S. Olympic Festival 400-meter title and ran third leg on the East teams winning 4x400-meter relay, which clocked 3:02.5.

Breaking 46 seconds became fairly routine for Larry that spring and summer. He won an international meet in Puerto Rico in 45.49; ran 45.77 for second place (losing by .01) in the Jesse Owens Classic; 45.94 for third at the Gatorade Classic; 45.93 for third in an eight-nation meet in Milan, Italy (as well as anchoring the winning 4x400 relay); and 46.33 for fourth in a meet pitting the U.S. versus Kenya and host Great Britain. The following year Larry kept the good times rolling, clicking off a 45.4-second leg on a triumphant U.S. 4x400 squad (3:03.64) at the World University Games in Sheffield, England. He also qualified to compete in the 1993 World Indoor Games and made several U.S. teams in international competition.

Glimpses of Larry's spring prowess were revealed during his days at Spring Valley. A two-time County spring champ in the 400, Larry broke a 15-year-old County record when he ran 48.3 at the 1986 Section 1 meet; lowered that to 48.0 to win the State Qualifier, and placed second in the New York State meet the following week. His County record, in turn, stood for 15 years. He also ran third leg on the Tigers' 4x100 relay, which placed third in the State meet in 42.63, at County record at the time. That relay team was enshrined in the Spring Valley High School Hall of Fame in 2003.

Indoors, Larry clocked a then-County record 50.73 for 400 and ran on a Spring Valley 4x200 relay that also set a County mark of 1:32.6 (since broken). He also ranks fifth on the County all-time list in the 300 yards (32.24) and ninth at 300 meters (35.66).

At Santa Fe Community College in Gainesville, Fla., which he attended with Sterling, Larry twice attained All-America status in the 400 meters/440 yards, placing second indoors (losing by just .01) and third outdoors at the junior college nationals. He also had a 44.9-second relay leg to his credit at Santa Fe. Larry then competed one semester for C.W. Post before venturing out to open competition.

Larry is also one of Rockland's most decorated track athletes at the Empire State Games, having won eight gold medals and numerous silver and bronze medals in the 400, 200, 4x400 and 4x100. His 45.3-second anchor leg in 1990 gave the Hudson Valley Region team a come-from-behind victory in the 4x400 and was one of the fastest splits in meet history. The year before, he won the 400, 200, 4x100 relay, and nearly brought the Hudson Valley another gold with a 46.5-second anchor carry on the 4x400.

After a six-year hiatus from running, Larry got the bug two years ago to get back into track racing, and he convinced his good friend Sherwin to start training again, too. They now live 20 minutes from each other in Florida, Larry in West Palm Beach, Sherwin in Margate. Their comeback has been a successful one, to say the least. Last summer at the World Masters Championships in San Sebastian, Spain, Larry and Sherwin teamed with Robert Thomas and Don Drummond to win the men's age 35-39 4x400 relay in 3:19.90, a world record for that age category. Larry also finished seventh in the 400 in 51.93, after having broken 51 seconds earlier in the season.

Larry, who is 37, currently works as a service technician for BellSouth. He was especially busy during the hurricane season in Florida last fall, often putting in 80-hour weeks. He manages to train in the evening despite a demanding 6:30 a.m. to 8 p.m. work schedule.
---