Todd Sinclair - North Rockland 1980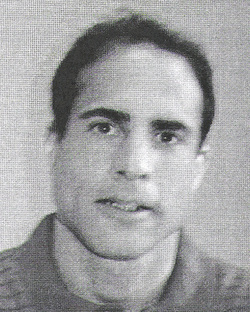 Although he excelled from 800 meters to the 10K, Todd Sinclair reaped his greatest fame as a miler and steeplechaser. Todd had a habit of letting the pace lag a bit in the third quarter of races before turning on the jets in the homestretch. That blistering kick carried him to many a victory at North Rockland, the University of Florida and post-collegiately, but two races stand out among the rest:
His 1,600-meter triumph in the 1980 New York State outdoor scholastic championships at Cornell in 4:09.74, second all-time among Rockland schoolboys.
His 1,500-meter victory at the Fast Times indoor meet in Gainesville, Fla., in March 1983. Todd's winning time of 3:41.4 equates to a sub-4-minute mile and is the fastest 1,500 ever run by a Rocklander.
Todd's state-meet win was especially sweet after he lost the indoor state 3,200 on a dive at the finish. The 1980 outdoor meet was his eighth time competing at States, and he wanted to leave on a good note. "That was my last opportunity, that's why it was so satisfying, especially after getting second indoors," says Todd, who shattered his personal best by more than seven seconds. "I never felt in control of the race. I didn't think of winning until 200 to go. I was inspired to pull it out."
Todd calls his 1,500 at the Fast Times meet "my single best race all time." But his finest meet was the 1983 Southeastern Conference (SEC) championships, where he won the 3,000-meter steeplechase in 8:41.7 and came back the next day to win the 1,500 in 3:48.3. In the steeplechase he avenged a loss to Rickey Pittman of Tennessee, who had beaten him at the Penn Relays. (Pittman was a three-time Penn Relays champ and third-place finisher at NCAAs.) Todd placed third at Penn in 8:41.1, his personal best and the fastest steeplechase ever by a Rocklander.
On the high school level, Todd earned All-County and All-State honors in track and cross country 10 times collectively; had the County steeplechase record for 25 years at 9:23.7 (run at the '80 Junior Nationals), and still ranks second; ran a 3:11 leadoff three-quarter-mile leg on North Rockland's winning distance medley relay at the Nassau Coaches indoor meet – the Raiders' 10:22.2 clocking was a County record for 26 years and still ranks in the top 15 all time statewide (as of 2010); he stands third among County schoolboys on Van Cortlandt's 2.5-mile course with a time of 12:36, winning his division at the '79 Manhattan Invitational and setting a then-County record; and is a member of the Rockland All-Century Cross Country team and the North Rockland Hall of Fame.
At Florida, Todd set two individual school records (indoor 1,500, outdoor steeplechase) and contributed to three relay marks (indoor 2-mile relay, indoor and outdoor distance medley); was the Gators' indoor and outdoor MVP in 1983; and twice placed in the top 15 in the SEC cross country meet.
After college, Todd continued to thrive on the track, with his best post-collegiate performances coming in the early 1990s. He placed third in the 1990 Penn Relays' Jumbo Elliott mile in 4:04.62, then ran 4:03.8 indoors at Harvard in 1991. He also added quality road-racing to his repertoire, winning or placing high in distances ranging from 5K to the half-marathon. He posted an excellent personal best of 29:59.9 for a road 10K.
One trait Todd never lacked was confidence. He respected opponents but was supremely self-assured and didn't disguise it. When he blazed to victory at the Manhattan cross country meet, he said it "felt like a fun run." When he led the 1985 Penn Relays open 5,000 meters through the first mile in 4:14, with Olympian and former American record-holder Sydney Maree in his wake, he said the pace "felt like we were walking."
Yet, he also has a keen appreciation of the sport and its icons. He speaks reverentially about lining up on the starting line with people like Steve Scott, the American mile record holder, and Irish miling great Eamonn Coghlan. "It was like fantasy baseball, but for me it was fantasy track," Todd says. "I ran against my heroes." He also cites Roger Bannister – history's first sub-4-minute miler – firing the starting gun in one of Todd's Penn Relay mile appearances.
Todd is quick to acknowledge the direction he received from those who coached and advised him throughout his career, from Gene Dall at North Rockland, to John Randolph at Florida, to Dick Teetsel and Ralph Coleman after college. He also cherishes the friendships he's made along the way, especially with Steve Hostomsky, his North Rockland teammate for three years and a 2005 inductee into the Rockland Track & Field Hall of Fame.
Todd graduated from Florida in 1985 with a degree in physical education. He was a health and physical education teacher at Don Bosco Prep in Ramsey, N.J., for about three years, and has held the same position at Teaneck (N.J.) High School for the past 14 years (as of 2006). At age 43, the Stony Point resident still competes in running events and prides himself on a lifestyle of fitness and vigorous health.
---