Dawn Royster Geronimo - Nyack 1983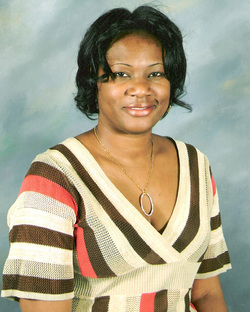 A lot was riding on Dawn Royster's shoulders when she stepped to the 800-meter starting line in the final event of the girls' pentathlon at the 1981 spring New York State championships at Cornell. The lanky Nyack sophomore needed to place fourth or better in the five-event competition to cement a sectional team victory for Section 9 (Rockland, Orange, Ulster and Sullivan counties).

Just as she would do throughout her eminently successful athletic career, Dawn responded to the pressure with a memorable effort, running a personal-best 2:24.0 for the 800 to move her up to third place overall and secure a team title for Section 9. Her score of 3,457 points set a Rockland and Section 9 record. When the pentathlon scoring tables were revised after the 1986 season, Dawn's score was recalibrated to 3,268 using the new tables. It stood as the County record for 27 years, until 2008, and now ranks No. 2. Besides the 800, Dawn's other marks in the record-setting effort included a 15.4 100-meter hurdles, 28-10 ½ shot put, 5-3 ¼ high jump, and 16-2 ½ long jump.

Dawn also stands second on the all-time Rockland list in the 400-meter hurdles, 61.6, and third in the high jump, 5-7. Her high jump mark, achieved at the Middletown Invitational in her senior year, stood as the County record for 12 years, while her hurdles time was recorded in the trials of the County meet in 1981, the first year the event was contested for girls. She finished second in the finals to County record-holder Debbie Grant of Ramapo.

At the Section 9 Class B meet her sophomore year, Dawn won the high jump and 400 hurdles and finished second in the long jump, but what she remembers most about that meet was tripping over the next-to-last hurdle in the 100-meter hurdles and going from first to last. "I couldn't believe it," says Dawn, who stood 6-feet tall as a sophomore and grew to 6-1 ¾. "I fell, got up, and everyone passed me. It was one of my most frustrating moments."

Those moments were few, however. Dawn's combined athletic prowess in track and basketball has been matched by few in Rockland history. Although she is known more for her basketball exploits, track was the first organized sport she participated in at school, joining the Nyack High School team as an eighth grader. She was exposed to track at an early age by the Olivier family, her neighbors in the Waldron Terrace apartment complex in Central Nyack. She also did lots of running – in footraces, basketball and other activities – at the Nyack Community Center down the block, under the direction of Billy Downes, the former Albertus Magnus basketball star.

Dwight Olivier, a fellow Hall of Fame inductee this year (2007), claimed some credit for encouraging Dawn. "Dawn only ran because I told her to go," he says. "I said, 'Why not come out for the track team?' She had done the long jump in gym class, and [the instructors] were impressed with her."

Dawn's superior jumping ability was enhanced by her four years as a cheerleader for the Nyack football team. "We worked just as hard as any other sport," she says. "We did running, jumping, stretching, going over all the routines and jumps, always on your toes. We even did competitions."

Dawn never ran indoor track, but she had a valid reason: She became the dominant girls' basketball player in Rockland, earning first-team All-County honors twice, and Rockland Player of the Year and second-team All-New York State acclaim her senior year. Nyack never lost to a Rockland opponent in her three-year varsity career, and she led the Indians to the Class B state semifinals in '83. In 1988, Dawn was voted Nyack High School's all-time top female athlete in a poll of Journal-News readers.

Once she began attracting the interest of schools with Division I college basketball programs, Dawn pursued that sport with a single-minded focus and had to forgo track for the most part. She earned a basketball scholarship to North Carolina and excelled for the Lady Tar Heels, twice making first-team All-Atlantic Coast Conference; gaining ACC Rookie of the Year and ACC tournament MVP honors as a freshman; and was All-America honorable mention her senior year, 1987. After college, Dawn played four years of professional basketball in Europe – one year in Italy followed by three years in Spain.

These days Dawn, who's 41 (as of 2007), lives in Newark, N.J., with her husband, Jose Geronimo, and their three children – Emiliana, 8; Jose, 6; and Jordan, 5. She works as a senior technical manager for Hewlett-Packard in Morristown, N.J. with AT&T as her principal client.
---