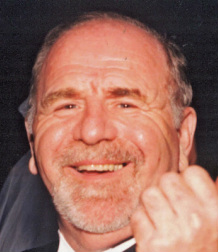 CHARLES SERRA

SPRING VALLEY 1952

Rockland County has been the launching pad for many high-caliber pole vaulters. In fact, nine vaulters from Rockland account for 11 New York State titles. The first in the succession of state-champion pole vaulters was Charles Serra of Spring Valley, who tied for first in the 1952 New York State championship meet with a County record clearance of 12 feet.

Charles competed in the era of the stiff bamboo and steel poles, a decade before the advent of the springy fiberglass models. He rode a hot streak at the end of the 1952 season, capturing the Rockland County PSAL championship at 11-2 ¾, breaking the County record of 11-2 ¼ set by Bill Bow of Congers in 1944. He then annexed the Section 9 Class B crown at 11-3 ¼, improving his own County standard, and culminated his scholastic career with the epochal 12-foot leap at the State Intersectional meet at West Point. He also went undefeated in dual meets during the '52 campaign and added the Hudson Valley Relays championship to his collection.

Earning a four-year scholarship to Manhattan College, Charles continued to soar to new heights in the vault, claiming four gold medals (two indoor, two outdoor) in the Metropolitan Intercollegiate championships; another gold in the AAU Olympic Development meet, where he achieved his career-best mark of 13 feet; and a pair of bronze medals at the Penn Relays.

Charles and his seven siblings were raised in a farmhouse on Eckerson Road in Spring Valley. At 5-foot-11 and a strapping 168 pounds, Charles – nicknamed "Sookie" from a white-haired cartoon character of the day – was a naturally gifted athlete and excelled at five different sports: four years of varsity track; four years of varsity football, serving as captain and earning All-PSAL honors as a back in 1951; four years of varsity basketball, and three years each of wrestling and baseball. Athletic genes apparently ran in the family, as younger brother Paul won the 1955 Section 9 pole vault title for Spring Valley.

After graduating from Manhattan in 1956 with a BS in physical education, Charles taught phys ed to elementary school students in the South Orangetown School District and later at Tappan Zee High School, where he also served as an assistant football coach in the 1960s under Joe Hince. After obtaining his master's degree in counseling from Seton Hall University, he served as a guidance counselor in the East Ramapo School District from 1969 to 1991.

Charles, who is 81, and his wife of 59 years, Elizabeth, reside in Central Valley, in Orange County, N.Y. They have six grown children, three boys and three girls.
---