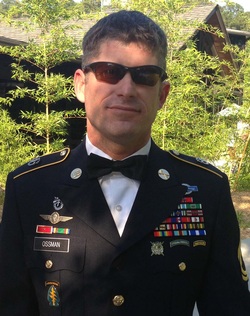 ROB OSSMAN
NORTH ROCKLAND 1992

The spirit of adventurism courses through Rob Ossman's veins. From his high-flying exploits in the pole vault for North Rockland High School to his Army career as a Green Beret and Special Forces warrior, Rob has pushed the envelope on taking risks, setting the bar high for his goals and embracing the challenge to fulfill them – whether the jump was over a crossbar or behind enemy lines.

Vaulters shed self-imposed limits. They just want to go airborne, using nothing more than a fiberglass pole and their own human engine. They want to see how high they can soar, catch a fleeting glimpse of the celestial view, feel that rush of adrenaline as they knife over the bar, and float down to earth cleanly, bar intact. Then they say: Let's go higher.

Rob Ossman went higher and higher, all the way to New York State titles indoors and outdoors in 1992, all the way to 15 feet 3 inches, ranking him No. 3 all-time outdoors in Rockland history and third indoors as well at 15-0. Rob is one of only three Rockland pole vaulters to have captured a pair of State championships, the others being his former teammate Ryan Dall and Tappan Zee's Lance Arietta.

The influences on Rob's pole-vaulting career are many. From the moment his good friend and fellow vaulter, David Walsh, convinced him to join the track team at North Rockland, Rob was hooked. "The pole vault appealed to me because it looked much more exciting than just running," says Rob, who had played only travel soccer previously. Along the way, his father and mother, Colin and Claudia; his coach, Gene Dall; and friend John Nepolitan were among those who had a major impact on his career.

On his dad (who is now deceased): "When it came to sports he would simply say, 'If you are going to doing something, be the best at it or don't do it at all.' These are the words of wisdom that have shaped my life, not just in sports. Seeing my father's dedication to supporting and helping us to achieve excellence set the example that drove me to read and learn as much as I could." [Two of Rob's three sisters also participated in athletics – Alicia, an All-State soccer player, and Colleen, a track sprinter.]

On his mom: "She was and still is one of the best cheerleaders a person could have."

On Coach Dall: "Gene treated me like a son. I remember him carting me all over the country with him and his son, Ryan. Never once did I feel he treated me any different than he did his own son. Gene was like a second dad to me during those years. He taught everyone he coached what you can achieve with hard work and dedication. He also taught us about fairness and never gave any one of us special treatment."

On John Nepolitan, a former Suffern track athlete who worked for track and field equipment supplier UCS and later formed a Rockland-based track club for which Rob competed: "John influenced my love and passion for track and field. He seemed to know everything about Rockland County track and field, from the fastest 100 meters of all time to the longest long jump in county history." When Rob failed to qualify for the indoor State meet his junior year, Nepolitan brought Rob with him to Cornell to watch the meet, inspiring him to rededicate himself to the vault. "It meant the world to this young high school kid," says Rob, who placed fifth in the outdoor State meet as a junior before reaching the top rung twice the following year.

When he reflects on his high school career, the memories that stand out most are those of the friendships he made with teammates, opposing vaulters and others in the sport. Ryan Dall was a constant companion, traveling with him and Coach Dall to pole vaulting clinics and camps in Rhode Island in the summer, Florida one winter, and even to California. "Ryan was one of the best teammates and competitors I have ever met. He was certainly years ahead of his age and is one of the main reasons I accomplished as much as I did." There were plenty of other close teammates, too, guys like Vinnie Fasano, Joe Vila, Esti Pazmino and Scott Coleman, to name a few.

Then there were the fellow vaulters from other schools, a close-knit fraternity who rooted for each other, lent a pole if needed, and shared a common interest of clearing the bar for a personal best. Vaulters like Bill DeWitt of Carmel, Chris Nicholson of Pearl River and the group from Bayport-Bluepoint on Long Island, not to mention the runners and other non-vaulters from Rockland and non-Rockland schools. "I have played other sports and had friends who played other sports," Rob says, "but one thing that I always found was that only in track and field were we all still friends with the 'enemy.' I think this is a rarity in track and field compared to other sports."

Upon graduating from North Rockland, Rob attended Southern Connecticut State University for two years and competed on the track team with unspectacular results. After leaving college he vaulted in some open meets as a member of Nepolitan's track club, Athletics Anonymous, before deciding to join the Army in 1996.

For the past 10 years, Rob has served with the 5th Special Forces Group – the Green Berets. The group's mission involves unconventional warfare, foreign internal defense, special reconnaissance and counter-terrorism. Rob has served as both a Weapons Sergeant and Intel Sergeant, and has undergone training and schooling in Airborne, Ranger, Combat Diver Supervisor and Sniper specialties. He also speaks Arabic as a second language – a skill quite necessary and useful during his three tours of Iraq, one tour in Afghanistan and several shorter tours to various countries in the Middle East. Rob was stationed stateside in Fort Campbell, Kentucky..

Rob, who is 40, will have served 20 years when he retires in February 2016 at the rank of Sergeant First Class. He resides in Clarksville, Tenn., with his wife, Maggie, and 3-year-old son, Cole.

---