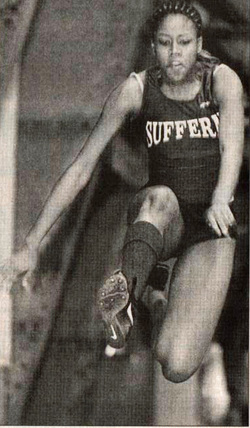 TANEISHA CANTAVE

SUFFERN 2003

Taneisha Cantave entered Suffern High School in 1999 as a tall, imposing figure even at that young age; she was an instant success on the courts for the Suffern High volleyball team. It was through volleyball that she ironically became involved in track and field, a second sport of sorts that launched her into the Rockland County Track and Field Hall of Fame.

"Weirdly enough, it was through volleyball that I got into track," she recalled recently. "Mrs. Delaney [track coach Susan Delaney] saw me playing a game and told me that if I went out for track and jumped, it would help me to jump higher in my volleyball game. So, I joined the team.

"It was scary at first, but then it all sort of clicked for me," she added. "I knew I could jump, but I was afraid of running very far. Coach McTaggart tricked me into running in a freshman 4x400 relay at the Crusader Relays, leading me off with the advice of 'Just get them the baton near the front of the race somehow and let the other three girls do the rest of the job.' After trying to figure things out, I just ran faster and handed off in first place in around 61 seconds. We won that race. At that point I figured OK, I can do this!"

Indeed she could. From her sophomore year onward, she got faster and was able to jump farther with each successive season. She went from being very good as a sophomore, consistently excellent as a junior, and was able to have a breakthrough senior year where she became dominant. Her forte was the horizontal jumps – the long jump, and the very demanding triple jump where she gathered her most accolades.

In the long jump she won the Rockland County championship for two consecutive years (2002 and 2003) both in the indoor and the outdoor seasons. Her personal-best effort indoors was a jump of 17 feet, 8 ½ inches at the 2003 Rockland County meet. Her outdoor best was also in the 2003 Rockland meet, where she jumped 17 feet, 4 inches.

She ran the 4x200-meter relay indoors. She was a member of Suffern teams that won the New York State indoor championship in three successive years from 2001 to 2003. She ran the 4x100-meter relay outdoors. Her 4x100 team in 2002 was fourth in the New York State meet in 48.56 seconds. Occasionally she would run the 100 meters for speed work, her best being a 12.7-second effort in a dual meet.

In the 2003 Rockland County championships she won a jumps trifecta – the long jump (17-4), the triple jump (37-9 ¼) and high jump (5-3) – becoming the first Rockland female athlete to accomplish this feat since the triple jump was added to the program of girls' events in 1985. This triple was not duplicated until 2014, when Kaylyn Gordon of Ramapo turned the trick.

It was the triple jump where Taneisha hopped, stepped, and jumped into the prominence that catapulted her into this Hall of Fame. The list is impressive:

· 2 Pearl River Holiday Festival titles

· 3 Penn State Invitational titles

· 2 League/Conference titles

· 1 Hispanic Games title (37-11 ¾)

· 1 Bishop Stanner Games title (37-7)

· 1 Suffern Invitational title (38-1 ¼)

· 1 Ridgewood Winter Games title

· 1 Eastern States title (37-8)

· 2 Red Raider Relays titles

· 1 Crusader Relays title

· 2 Rockland indoor titles

· 2 Rockland outdoor titles

· 2 New York State championships (one indoor, one outdoor – both over 39 feet)

The most vivid memory of high school for Taneisha Cantave was in the State indoor championships in her senior season of 2003. While she had jumped in the 38-foot range, her focus in training had been on maximizing all three of the jump phases in hopes of breaking 39 feet.

She recalled, "I came down the runway on my first jump and I felt everything click just right. When I landed in the pit, I saw Coach Delaney stand up real fast and heard Mr. [Don] Schlesinger scream out 'That's it!' When they measured, it was 39 feet, 2 inches. Achieving that was fantastic." She became the State champion on that first jump and never looked back. At the outdoor New York State meet, she repeated that same feat with a jump of 39 feet, 1 ½ inches.

When asked what she got most out of her track experience, she said without hesitation, "Discipline. By being a part of successful teams it pushed me individually and wanting to be part of that team experience. We had a great support system at Suffern with tough, assertive coaches who really wanted us to be as successful as we could. I learned to push myself and to appreciate and take direction."

Taneisha went on for a degree in social work and is currently working with the Mental Health Association. She had coached track at several schools before going to that career. But she has also returned to her first love of volleyball and has developed and become the director of the Westchester Pride Volleyball Club in Hartsdale, N.Y. She has one daughter, Gabriella, who is 21 months old and is expecting another new arrival very soon.


---