Calvin Crosslin - Ramapo 1983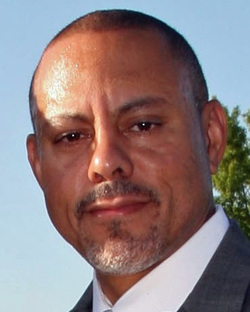 Calvin Crosslin produced one of the top single-day performances ever by a Rocklander at the 1983 New York State indoor championships. He won the long jump at 23 feet 5 ¾ inches, No. 2 on the all-time Rockland list, and placed second in the 55-meter high hurdles in 7.52 seconds, then the second-fastest time ever and currently No. 4.

But Calvin was no one-hit wonder. He won the County title three straight years in the 400-meter hurdles, clocking 54.0 at the 1981 County meet and missing the state sophomore record by just one-tenth of a second. He placed third in that event at the '81 State meet. He also ran on Ramapo's third-place 800-meter relay at the 1982 indoor State meet; captured 7 County titles and 4 Section 9 Class A and State Qualifier crowns apiece; holds the County indoor meet record in the long jump at 22-8 ½; ranks No. 5 all-time Rockland in the 400 hurdles, and shares the No. 7 slot in the 110 high hurdles at 14.1.

Calvin's range was indeed impressive. While he was swift enough to blaze 11.0 for 100 meters and 22.6 for 200, he was strong enough to crank out a 2:02.7 for 800, in one of his few forays into middle distance. "You won't find a coach who wouldn't want a Calvin Crosslin on his team," says Matt Mulligan, one of Calvin's coaches at Ramapo. "He was so versatile. He was a fierce and determined competitor with loads of talent, but his great determination is what set him apart from other athletes. Calvin was also a strong-willed kid who would challenge a lot of things, but that's part of what made him so good."

Calvin got started in track and field as a seventh grader at Noel Grishom Middle School in Austin, Texas, where he competed primarily in the sprints, hurdles and long jump. After moving to Rockland County after eighth grade, he joined the Ramapo track team and proceeded to make his mark in whatever event he was tapped to enter.

Calvin competed in a halcyon era for combination jumper/hurdlers in Rockland, with fellow Hall of Famers Dwight Olivier of Nyack and Howie Allen of Spring Valley challenging not only for local bragging rights but state laurels as well. Getting the best of Olivier at the 1981 County-meet 400 hurdles ranks as one of Calvin's most meaningful feats, due to his great admiration for the late Nyack athlete, as does his long jump triumph at the 1983 Loucks Games, annually one of the most competitive meets on the Eastern calendar. He also holds Allen in high esteem and was proud to follow him as Loucks long jump champ. "I remember how well he did at the Games and wanted to have that same trophy, which is one of the few items I keep out on display from that era," Calvin says proudly.

Track is as much about relationships forged and experiences shared as it is about times run and distances jumped. Calvin counts himself fortunate to have made many friendships with Ramapo teammates such as Corey Seymore, Kendall James, Dave Jacas and Chris Scudder, all of whom ran on the sprint relay with him, along with girls' team members Kim McDole, Jackie Capers, Suzette Francois and Debbie Grant.

He also has great respect and fond memories of his Gryphon coaches, especially Mulligan, Rose Campbell and the late Anthony "Box" James, a former neighbor, who encouraged Calvin to strive for his maximum potential in all aspects of his life. Spring Valley coach Betsy Evans and Ramapo athletic director Chuck Scarpulla were others who offered guidance and sound counsel to him.

"I don't know that I would have had the great fortune of friends like Kendall James and Corey Seymore if it were not for track and field, and the relay team in particular," Calvin says. "Kendall lived a few doors down and I spent a great deal of time at his house with he and Mr. James. We still laugh today about sneaking in and listening to Richard Pryor albums. And Corey and his family treated all of his friends like family. They are great people."

After graduating from Ramapo, Calvin attended the University of Texas at El Paso and competed on the track team for two years, contesting the 100, 200, long jump and 400-meter relay. After multiple injuries including a severely torn hamstring, he transferred to SUNY College at Old Westbury after the fall semester of his junior year. He graduated in 1988 with a Bachelor of Science degree in business, and later did some graduate study in human resource management at Rutgers.

Calvin, who is 47, currently works as a human resources manager for IBM in Raleigh, N.C., where he has resided since 1994. His "baby sister and best friend," Erika Gaskin, is also a Ramapo graduate. Calvin has two children: Alexandra, 19, an accomplished track and field athlete herself in high school, and Christian, 15, a talented athlete and student.
---