Debbie Grant - Ramapo 1983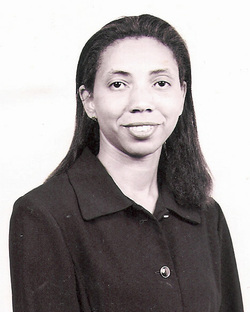 From Ramapo High School to Villanova University to national and international fame, Debbie Grant has represented Rockland County better than any female track and field athlete ever has.

From the first time she laced up her track shoes as a 9-year-old living in the Bronx, Debbie was a rare blend of class and talent. When she moved to Spring Valley as a 12-year-old in 1977, she continued to develop the upright, graceful running stride that would become her trademark. And by the time she graduated from Ramapo High School in 1983, that flowing stride had carried her past countless opponents and into the circle of elite Rockland girls' track champions.

Debbie's five-year varsity career at Ramapo is studded with memorable performances. The crown jewel in her collection is the gold medal at the 1983 U.S. Junior National (under age 20) championship – Rockland County's first – in the 400-meter hurdles, earning her All-America status. Her time, 59.83 seconds, established a state record at the time and is still No. 13 on the all-time state list (as of 2010).

Debbie also won five New York State titles: the 400-meter hurdles her sophomore and senior years; as a member of the winning 4x400-meter relay in the spring of 1982 and winter of 1983; and on the Intersectional medley relay in 1981. She also had three second-place finishes and two third-place showings.

Locally, Debbie was a three-time Rockland Track and Field Athlete of the Year; won seven County titles indoors and outdoors in 1983 alone; is County record-holder in the 400 hurdles and indoor 600-yard run (1:22.61); and at one time held 15 school records, many of which still stand. Led by Debbie and fellow Hall of Famer Kim McDole, Ramapo won three consecutive Section 9 team championships and two straight Rockland County titles.

For her outstanding accomplishments at Ramapo, Grant was inducted in August 2003 as a charter member of the New York State Public High School Athletic Association Hall of Fame. She was the only athlete among the inaugural group, male or female, to be inducted.

Debbie waged many spirited duels with another charter Hall of Famer, Nancy Rosenfeld of Suffern. "I was fortunate to have her in the same county, section and state with me," says Debbie, who is 44 (as of 2010) and a native of Kingston, Jamaica. "Racing against her truly brought out the best in me." Rosenfeld also was a five-time state champion.

The level of competition grew even more formidable when Debbie entered Villanova in the fall of 1983. She responded like a champion, however, earning collegiate All-America status seven times; winning 14 Big East Conference titles; running on the fastest collegiate 4x800-meter relay team in history; setting the Villanova women's record in the 800 meters (2:00.47); and gaining induction into the Villanova University Hall of Fame.

After graduating from Villanova with a degree in civil engineering, Debbie continued her competitive racing career and almost reached the zenith of her sport in 1988, one year out of college. Competing in the 1988 U.S. Olympic Trials, she placed fourth in the 800 meters in 1:59.97. The third-place finisher edged her by four one-hundredths of a second for the final Olympic qualifying berth. No Rockland track athlete has made the Olympic Games, and none came closer than Debbie did that day in Indianapolis.

But Debbie was far from finished. In the 1992 U.S. Olympic Trials – the trials are held every four years – she finished fifth in the 800 meters, missing an Olympic berth by two places. And in the 2000 Olympic Trials, she placed sixth in the 1,500 meters (the metric mile). In all, she competed in five U.S. Olympic Trials (1984, 1988, 1992, 1996, 2000), more than any other Rockland female track athlete.

Also in her post-collegiate career, Debbie was the 1988 U.S. Olympic Festival champion at 800 meters; 11 times she was ranked in the top 10 in the U.S., primarily in the 800; 14 times she was a U.S. Championships finalist at 800, 1,500 or 3,000 meters; and twice she competed in the U.S. versus Great Britain Dual Meet.

After earning her bachelor's and master's degrees in civil engineering at Villanova, she embarked on a career in that profession. Currently she is a project engineer for the Shell Oil Company, managing construction projects at supply and distribution terminals in the Northeast. She resides in Kingwood, Texas, with her husband, Howard d'Olivier "Howie" Allen, a former Spring Valley star and fellow Hall of Famer, and has three children: Olivia, 5, and two boys by a previous marriage, Kyle, 19, and Myles, 12.
---