Marvin Branche - Spring Valley 1950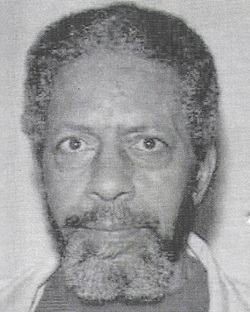 Stories about Marvin Branche's prodigious strength in the weight events took on mythic proportions. At a dual meet at Spring Valley in 1950, Marvin was reputed to have flung the discus out past the 150-foot sector boundary, across the track and through the window of a building thought to be safely out of reach.

And how about the time, at the New York State scholastic championships, when he reportedly whirled the discus 175 feet but stepped over the foul chalk-line by a fraction of an inch, thereby nullifying a throw that would have been just four feet shy of the existing national record?

In a 1950 Journal-News article, he was called "the greatest all-around trackman in two decades." How great? At 6-foot-2 and a well-muscled 210 pounds in his prime, the bespectacled left-hander held the County discus record for 25 years at 160 feet, 3 inches. His record finally fell in 1975 when Nanuet's Tony Harlin threw 166-10.

Marvin was the New York State scholastic discus champ in 1949 and the state runner-up the following year. At the Rockland County championships, he won the shot put three straight years and the discus twice. He also excelled in the javelin, a nonstandard event that was contested only sporadically. "I loved the javelin," Marvin said in a 1984 Journal-News article when he was inducted into the Rockland County Sports Hall of Fame. "That was my favorite, but no one in the county threw it. In the few meets that did have it, I'd borrow a javelin from another team and just throw it without any practice."

A natural southpaw, he also won events throwing right-handed when his left elbow was sore. But strength was not his only athletic attribute. He also showed great sprinting ability as part of the Spring Valley 440- and 880-yard relay teams that competed in the 1949 New York State meet. A fine all-round athlete, Marvin was an All-County fullback in football and excelled as a heavyweight wrestler. In all, he amassed 11 letters in five sports at Spring Valley – track, football, wrestling, basketball and baseball.

Marvin's record-setting scholastic career earned him a full scholarship to Wyoming Seminary in Kingston, Pa., a preparatory school for the U.S. Naval Academy. At Wyoming, he routinely competed in four to six track events per meet, winning most of them. Against Valley Forge Military Academy, he won six events in one day, a la Jesse Owens: the 100-yard dash, 120-yard high hurdles, shot put, long jump, javelin and discus, and tied for victory in the high jump. He also performed as a heavyweight wrestler and as an offensive and defensive end on the gridiron. For his multifaceted athletic success he was inducted into the Wyoming Seminary Hall of Fame, and also is enshrined in the Spring Valley High School Hall of Fame.

Marvin went on to excel against international competition in track events during his four-year stint in the U.S. Air Force, for which he served with the military police in Okinawa, Japan, during the Korean War. In the 1953 Far Eastern Air Force Conference Games in Osaka, Japan, he placed second in the shot put, discus and javelin and took third in the hammer throw.

Marvin became Clarkstown's first black police officer in 1960, later worked as a private investigator and spent several years employed by Rockland Community College, retiring in 1993. Although born in Haverstraw, he lived in Spring Valley for 62 years and resided there until his death in May 2005 at age 74. Marvin is survived by his five children – Marc (a former pro running back in the United States Football League), Renee, Sabena, Cicely and Hermione – and longtime companion Eileen Herkes.
---