Patricia Reynar Farmer - Suffern 1979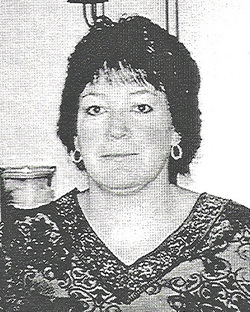 In 1977, as an athlete Pat "Trisha" Reynar was known for being a talented junior butterflyer on the very strong Suffern High girls' swimming team. Indoor track coach Joe Biddy discovered her special strength and power as an athlete watching her play a co-ed brand of European team handball in a physical education class. When she fired the ball at the goal, everybody ducked because of the velocity of the ball coming at them.

Biddy immediately recruited her for his indoor track team to be a shot putter. She took to the event quickly, became successful at it very early, and committed herself at the outset that she was going to excel at it. In two short years, she went from being a good local performer to one of the elite of the junior women in the nation.

In her first indoor season, she won the Rockland County championship with a throw of 36 feet even (with the 8-pound shot, which was the standard implement when she competed). It was at this point, she and her coaches decided there was a larger potential in her talents that could be tapped by intense training and technique work. She began a regular training regimen under the supervision of Nanuet High School field events coach Ed Denton, who had been coaching state champion and fellow Hall of Fame member Tony Harlin. She absolutely thrived on the intense training and became a true student of the event. By the end of the indoor season, she broke the 39-foot barrier. By the end of her first outdoor season, she was consistently performing in that range, winning the County championship and getting a chance to compete in the State championship in Buffalo, posting a season best of 39-10 ½.

In her second year in the event, her intensity in training and her even greater intensity as a competitor brought her to the elite level. Her earliest winning efforts were consistently in the 41- and 42-foot ranges. She had early-season victories at the Rockland All-Group Meet (40-7 ½), St. Francis Prep Games (41-5) and the Nassau Relays (41-11 ½), before winning the Rockland Coaches Invitational and the County championships with identical 42-6 performances. She took a huge step in winning the New Rochelle Invitational at 43-11 to prepare her for her second appearance in a state championship.

At the indoor States, she had a magnificent performance of 45-8 ¼, but finished a disappointing second place by three-quarters of an inch.

The 1979 outdoor season had one purpose only – winning the New York State championship. Along the journey to that destination there were some ups and downs. One of the highlights of a pretty sensational season was a dramatic and convincing win in the Penn Relays over a very elite field. Seeded seventh going into that competition, she sent the shot 45-9 ½ (13.95 meters) on her second throw, breaking the existing meet record and establishing a Rockland County record in the process for the 8-lb. shot. The rest of the field vainly attempted to match her as she completed the competition with four of her six throws over the 45-foot mark. She was the Penn Relays champion with a brand new watch to prove it.

At the Loucks Games, she met up with the athlete who had defeated her in the indoor State championships. Nursing a shoulder injury all the previous week, she pressed too hard for the victory and came up short in a disappointing second place to her nemesis. She focused with an even greater resolve the last month of her season, winning County, Section 9 Class A, and State Qualifying meet championships.

When she arrived for the 1979 State championships at West Point, she was ultimately prepared and focused. Her warm-ups reflected the controlled intensity that she showed at the Penn Relays. For 42 minutes she used every ounce of energy in her to focus on doing everything perfectly with that disciplined explosiveness that would bring her to her goal. Forty-three minutes after the competition began, she became Suffern High's first female athlete to win a New York State championship in track and field with a winning throw of 45-4 ½. Her achievement was contagious, since an hour later her Suffern teammates won the State championship in the mile relay, setting a County record in the process.

A few weeks later, she competed at the U.S.A. Track and Field Junior Women's championships in Nashville, Tenn. Throwing a heavier shot – 4 kilograms, or about 8.8 pounds – she finished fifth with a throw of 43-3 ½. This established a Rockland County record in the 4 kg shot that stands today, 31 years later. It also was a New York State record at that time.

Pat continued competing at Morehead State College in Kentucky and was a medal winner in several Empire State Games competitions in the summer. She is now a college admissions counselor and currently resides with her family in Purchase, N.Y.
---