H. Parker Talman - Spring Valley 1912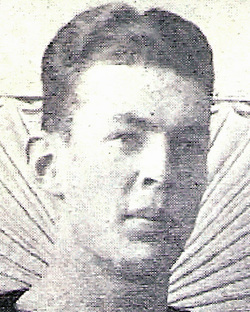 A brief profile in a program journal doesn't do justice to the colorful exploits of Howard Parker Talman. A ninth-generation descendant of one of the earliest Rockland families (1675), Talman's persona looms almost larger than life, like the protagonist in a picaresque novel: legendary athlete, world traveler, gold prospector, poet, railroad builder, private detective, blue-ribbon poultry breeder, college professor, expert carpenter and home builder, sports columnist, champion football coach and athletic director.

Oh, how he could regale listeners with stories from his multifaceted pursuits. "He was a spellbinder," says Pete Talman, Parker Talman's nephew. "Word would get around town and people came to see him. I'm sure he embellished on his tales of adventure, but people enjoyed it."

At 6-foot-4 and 200 pounds, Talman had size and speed – lots of speed. His football coach at Rutgers, George Foster Sanford, called him "the fastest big man I ever saw." A newspaper account reported that he held the New York State 100-yard dash record at 10 seconds flat. It's assumed he set the record in 1912 at the Rockland County track & field championships at the Orangeburg Fairgrounds. He also reportedly set County records that day in the 440-yard dash, shot put and discus. Some of his marks were said to have stood for some 20 years.

At Rutgers, Talman attained national recognition in track and football. In the discus, he won three straight Middle States Conference championships (1913-15), was crowned national AAU Junior champion, and established what was believed to be the American junior record with a heave of 184 feet, 4 inches. (The junior men's discus is 3.86 pounds, lighter than the international discus [4.41 lbs.] but heavier than the high school implement [3.58 lbs.]).

Talman's scholarship allowed him to travel extensively, and he competed in track meets all over the world, including Japan, Canada and England. As late as 1929, when he was in his mid-30s, he continued to throw the shot and discus in track meets and play football. "He taught me how to throw the discus," says Pete Talman, the Rockland County discus champ in 1958 and a 130-foot thrower. "I was looking to break Marvin Branche's record but I wasn't close." Branche's County record of 160-3 stood from 1950 to 1975.

On the gridiron, Talman gained even greater renown. He was Rockland County' first professional athlete, playing pro football for the Massillon (Ohio) Tigers and Detroit Heralds. At Rutgers, he became the only person to be named to Walter Camp's All-America football team three years in a row at three different positions – guard, halfback and fullback.

Talman left Rutgers "in a huff" before his senior year, Pete Talman says. "He did not like being a tin god. Other colleges [including Vanderbilt] were looking to recruit him but he shunned the big-college things. He was such a nomad, he went to school at the University of Chattanooga to thumb his nose at Vanderbilt." Talman left Chattanooga to play pro football with Massillon in 1916 and part of 1917 – with teammates Jim Thorpe and Knute Rockne – before serving a two-year hitch in the U.S. Army as a first lieutenant. He rejoined Massillon for part of the 1919 season before signing with the Detroit Heralds.

Talman returned to Chattanooga in 1921 and played fullback on the football team. After graduating with a degree in literature, he became football coach and athletic director at Chattanooga, then filled those same positions at Weaver College in North Carolina, where he had two undefeated seasons; and Rollins College in Florida and Lynchburg College in Virginia, chairing the history departments at both schools. During those years he also headed the physical education department of six summer schools and penned sports columns in newspapers in the Asheville, N.C., area.

Talman's wanderlust tugged him away from sporting pursuits and toward a multitude of other interests. He prospected for gold and helped build railroads in Alaska; worked as a private investigator in California and on a dredge in Central America; wrote three books of poetry; and, after moving to Lakeland, Fla., returned to his childhood hobby of raising exhibition poultry. "He had several world champion roosters," says Pete Talman. "We would go to County fairs and my uncle's chickens would always be there."

Before moving to Florida, Talman returned to Rockland from 1935 to 1944 and operated a lumber mill in Tappan. He also built several homes in Spring Valley. "He was a tremendous carpenter," says Pete Talman, 67, a retired health education teacher and coach at Spring Valley High who now lives in Lords Valley, Pa. I have a cedar chest that he built from a tree in one day. He had a great love of wood."

One of Parker Talman's two brothers, Wilfred (Pete's father), captained the Spring Valley track team in 1922-23 and wrote extensively and authoritatively about Rockland's history. Parker Talman was married three times and adopted a daughter, Ann Talman Tucker, with his third wife. Tucker lives in Lakeland, Fla., and is in her 80s (as of 2007).

Parker Talman is a member of the Rockland County, Rutgers and Chattanooga halls of fame. He died in 1961 at age 67.
---