Sherwin Sterling - Spring Valley 1986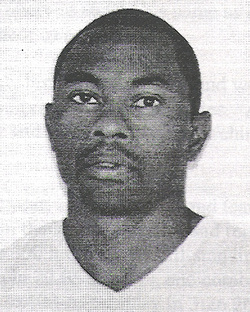 To be a good 400-meter hurdler, you can get by with unpolished hurdling form. What you cannot get by with is a lack of speed. At 5-foot-8 ½ inches and 145 pounds, Sherwin Sterling did not have the lanky hurdler's build of an Edwin Moses or a Kevin Young, but he surely had superior hurdling technique and speed to burn. Combining those elements with an outsized desire to excel, Sherwin etched his name as Rockland's foremost practitioner of the one-lap intermediate hurdle race.

"I guess the odds were against me, but we trained hard and were dedicated," Sherwin says, referring to himself and his Spring Valley teammates. "And we received excellent coaching from Betsy Evans. Day and night she was researching the event, coming up with different ideas."

In the spring season of his senior year, 1986, Sherwin and teammate Larry Gardner gave the Tigers a mighty high profile in the sprints, hurdles and relays. At the County championships, Sherwin won the 400 hurdles in a still-standing meet record of 53.80 seconds; won the 200-meter dash in 22.06 seconds, and combined with Gardner, Pierre Fils and Ronald Blain to win the 4x400-meter relay in 3:26.26. For his efforts, he was named co-winner of the meet's outstanding performer award along with Clarkstown North's Mike Rogan.

After winning the 400 hurdles at the Conference A-West (53.8), Section 1 Class A (52.7) and State Qualifier (53.1), Sherwin became the first Rocklander to capture a New York State scholastic title in that event, clocking 52.91. "The state meet climaxed everything that I had worked toward," he says. More glory was forthcoming later that day when Shewin anchored Spring Valley's 4x100-meter relay team to a third-place finish in 42.63, then a County record and currently No. 6 [as of 2010] on the all-time Rockland list.

Once the high school season was over, Sherwin continued to train through the summer for the Empire State Games, and it paid off in a big way. At the Hudson Valley Region trials, Sherwin clocked 52.0, which currently ranks him No. 8 on the all-time New York State list for scholastic hurdlers. He then closed out his summer on a high note with a gold medal in the Empire State Games finals in Buffalo.

Other notable performances included a fifth-place finish in the 300-yard dash at the indoor Eastern States championships in 32.22, the fourth-fastest time in County annals [as of 2010], and anchoring Spring Valley's 880-yard relay, whose best of 1:32.6 ranks No. 9 on the Rockland indoor list [as of 2010].

Sherwin continued to train seriously for six more years and churned out many more high-octane performances. At Santa Fe Junior College in Gainesville, Fla., which he attended for two years with Gardner, Sherwin was a three-time junior college All-America in the 400 hurdles and 4x100, producing best times of 51.22 for the hurdles and 46.8 for the flat 400. He then transferred to C.W. Post, where he again earned All-America status, in the indoor 400 meters (47.90).

As an open competitor, one of Sherwin's finest moments came at the 1990 Penn Relays, where he and Gardner ran for the Shore AC of New Jersey in the Olympic Development 4x400 relay. Running the second leg, Sherwin sped a personal-best split time of 45.7. Gardner anchored in 44.7 to bring Shore AC the victory in 3:03.64, which was faster than George Mason's winning 3:04.51 in the College "Championship of America" 4x400. "No one had ever heard of us, but we just never had the opportunity to show what we could do," Sherwin had said at the time.

Sherwin ended his elite-athlete career at the 1992 Olympic trials for Jamaica (he is a native of Kingston, Jamaica, with dual citizenship). He finished third in the 400 hurdles in 50.3, missing an Olympic berth by one place.

Sherwin earned a bachelor's degree in liberal arts from Purchase College, State University of New York, and worked for the New York City Housing Authority while attending Purchase. He relocated to South Florida in the late 1990s and worked for Enterprise car leasing for a few years before deciding to start a career with the U.S. Customs Service. He underwent extensive training at the Federal Law Enforcement Training Center in Glynco, Ga., and has been a Customs agent for three years, focusing on anti-terrorism, contraband enforcement and weapons and narcotics searches. "I feel like I'm making a difference," he says.

Sherwin, who's 37, lives in the South Florida community of Margate with his wife, Ilza, and daughter Morgan, 8; another child is due in June 2005. Last year, after more than a decade-long hiatus, Sherwin got the itch to get back into track competition. He began training with good friend Larry Gardner, who lives nearby in Coral Springs, Fla., and Sherwin got down to 49.83 in the 400, good for a No. 3 national ranking in the 35-39 age group. He also earned a gold medal in the inaugural International Police and Fire Games last August in Las Vegas.
---