Shulton Whitley - Nyack 1977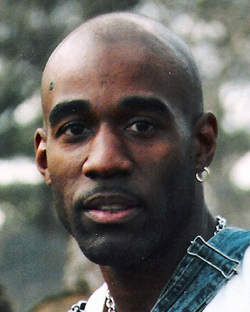 The mid- to late 1970s were a golden era for hurdling in the New York-New Jersey area. Names like Renaldo Nehemiah, Paul Lankford and Art Monk are well known to track followers as among the top schoolboys ever to skim the high-hurdle barriers. The competition among these fleet-footed, high-stepping stalwarts elevated the level of achievement to unprecedented heights.
Into this mix stepped Nyack's own Shulton Whitley. The 1977 Nyack High School graduate was not intimidated by the hurdlers with the fancy reputations. In fact, by the time he exited the scholastic stage, Shulton had forged quite a name for himself, thank you.
Shulton's crowning moment came at the 1977 Loucks Games, one of the premier high school track meets in the country. Competing against a stacked field in the 120-yard high hurdles – including Lankford, the Farmingdale High School ace who later became a pro football wide receiver – Shulton won in 13.6 seconds, a clocking that currently ranks fourth all-time on the New York State scholastic list (as of 2010).
Let Shulton describe how the big race unfolded. "I was the underdog. The day before in the quarterfinal Lankford had run a wind-aided 13.1, which was the fastest [schoolboy] time ever run up to then. I had to sleep on that. It was hard to sleep that night. In the final, we were both locked in. The rhythm was there. At the fourth and sixth hurdles, he faltered. I went ahead by a foot, a shoe. Then at the ninth hurdle, he was pressing hard to get even and get by me, and he hit the hurdle. That's when I knew I had it."
Hurdlers are warriors. Meet after meet, they line up against each other, shake hands (or sometimes not) and come out swinging. May the best man win. More often than not, Shulton was the best man. And when he didn't win, he made them work for it.
In addition to his Loucks Games title, he had several other exceptional efforts in 1977:
Rockland County champion in the 120-yard high hurdles (14.2), 33-yard intermediate hurdles (County meet record, 38.4), and long jump (21 feet, 11 inches). Until 1997, he was the only athlete in meet history to win three individual events in one County meet.
Section 9 champion
Second place in the New York State Public High School Athletic Association championships, losing in a photo-finish.
Rockland Track Athlete of the Year
Fourth place, Eastern States Championships
In relays, he ran on Nyack's 440- and 880-yard relays, which set Rockland and Section 9 records with respective times of 42.7 and 1:28.9.
His time of 13.6 in the 120-yard high hurdles is a Rockland and Section 9 record, and he is one of only two Rockland athletes to break 14 seconds (Nyack's Dwight Olivier, at 13.9, is the other.)
As a junior, he finished third in the 120-yard high hurdles in the 1976 New York State championships.
Shulton earned a full scholarship to Rutgers University and competed for the Scarlet Knights from 1977 to 1982. He was the 1979 New Jersey and Metropolitan Conference champion in the 55-meter hurdles indoors and the 110-meter hurdles outdoors. In the 1980 indoor season, he had the fastest time (6.9 seconds) on Rutgers' 4x55-meter shuttle hurdle relay at the Princeton Invitational. The team's time of 28.5 seconds was ranked fourth in the world. Shulton is the only Rutgers hurdler to break 7 seconds on that relay.
Among his other highlights was a victory over Lankford and teammate Eugene Norman in the 55-meter hurdles at a meet that drew some of the top teams in the Northeast. He clocked 7.41 seconds, his best collegiate time. He was also the 55-meter hurdles champion at the East Coast Championships; ran on 4x110-meter shuttle hurdle relay teams that won silver medals three different years at the Penn Relays; placed third in the IC4A (Eastern) Championships in the 55-meter hurdles in 1978; and held the field house records in that event at both West Point and Lafayette.
Shulton continued to compete at a championship level for 10 more years after college. He qualified for the 1984 U.S. Olympic Trials in the 110-meter high hurdles, and the same year he set the still-standing record at the Empire State Games in that event, 13.5 seconds, his personal best. Shulton won 17 medals at the Empire State Games in hurdles and relay events over nine years, including five gold medals. His best 55-meter hurdles time of 7.28 was achieved while he was a member of the Yonkers Striders Track Club in the mid-1980s.
He also earned numerous gold, silver and bronze medals at championship meets such as the Penn Relays, Millrose Games, Vitalis Olympic Invitational, and the U.S. Indoor National championship meet. He later used his hurdling fame and good looks to spur a popular ad campaign – The Best A Man Can Get – by appearing on a television commercial for Gillette razor blades.
Shulton, who is 51 (as of 2010), lives in Spring Valley with his wife, Kathleen, and the Whitleys have three children: Jordan, 22; Samantha, 20, and Ryan, 19, who starred as a hurdler and sprinter for Ramapo High School. Shulton is a teacher's aide and counselor at the Summit School in Nyack, and has coached track & field for many years in the Nyack school system.
---