Meghan Howell - Suffern 1999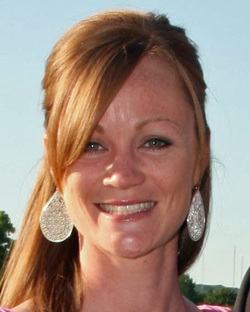 In the latter half of the 1990s Meghan Howell was a familiar figure to Rockland County track loyalists. Whether it was outdoors, indoors or the hills-and-trails of cross country, Meghan was often seen out front, an auburn-haired dynamo leading a gaggle of followers in futile pursuit. Her victory parade started early, as a precocious ninth grader, and continued throughout her four years as a standard-bearer for the Suffern Mounties under coaches Tom McTaggart, Joe Biddy and Ralph Coleman.

For the Rockland County championships, Meghan was rarely off peak form. She romped to 14 individual gold medals in the County track championships, sweeping the indoor and outdoor 1,500- and 3,000-meter runs for three consecutive years. Meghan also ran on the winning 3,200-meter relay twice, and tacked on three straight Rockland County cross-country titles for a total of 19 such crowns over 12 seasons, surely one of the grandest gold-medal hauls in County annals.

Meghan culminated her stellar career at Suffern by winning the Class A title in the 1,500-meter run at the 1999 New York State outdoor championships in Kingston. That spring she followed a Coleman-devised training program to the letter and progressed steadily from week to week, winning the Section 1 Class A race in a sizzling 4:36.9, capturing the State Qualifier in 4:39.2, and claiming the State Class A title in 4:38.22. Her time of 4:36.9 from the Sectionals still ranks No. 4 on the all-time Rockland list in that event.

Truth be told, Meghan showed exceptional promise as early as fourth grade. Representing Sloatsburg Elementary School, she won the annual, three-quarter-mile fun run against other elementary school children in the Ramapo Central School District – not just once, but three straight years. Upon entering Suffern Middle School in seventh grade, she joined the track and cross country teams and developed under Coach Ike McCormick. Meghan followed her older brothers Blaine and Brendan into the sport. Blaine ran the sprints and Brendan, like Meghan, was a distance runner. "I saw them doing it and I said, 'I'll do it, too," she says.

Aside from the County and State titles, Meghan also annexed five Section 1 Class A championships and an Eastern States crown in the 1,600 meters. Her personal-best indoor times of 5:03.47 for the mile and 2:39.9 for 1,000 yards rank No. 3 among Rockland girls, and her 1,000-meter time of 2:58.2 rates in the top 10. In cross country, Meghan won the three successive County titles and one Sectional championship, and finished sixth in the State Class A meet as a senior. Her time of 19:04.3 on Van Cortlandt Park's 5,000-meter course ranks fifth on Rockland's all-time list.

After one semester at James Madison University, Meghan transferred to the University at Albany and enjoyed a productive career for the Great Danes. A team captain in both cross country and track, she earned All-East honors as a distance runner, qualified for the NCAA East Regional as well as the IC4A and Penn Relays, and broke the school record in the 3,000-meter steeplechase every time she raced it.

Meghan graduated from Albany with an undergraduate degree in psychology, with English and education minors, and a master's in information science. While completing her graduate work, she served as a graduate assistant for the track team and as an assistant coach for the cross country team.

Meghan's career in education began at the S.S. Seward Institute in Florida, N.Y., where she served for three years as school librarian. She has spent the past three years as a middle school librarian in the North Rockland Central School District. In that regard she takes after her mom, Janie, a librarian at Suffern High School and the longtime tabulator of computerized results for the Rockland County track community. Meghan also coaches track and cross country at Haverstraw Middle School.

Still an avid runner, Meghan has contested various 5K road races since college. She even took on the challenge of a marathon, completing the Kiawah Island Marathon in South Carolina in a notable time of 3:17:18. Meghan, who's 30, was raised in Sloatsburg and now calls Suffern home. She is engaged to be married in September to her fiancé, Michael Pagano.
---