Thad Wilson - Nanuet 1969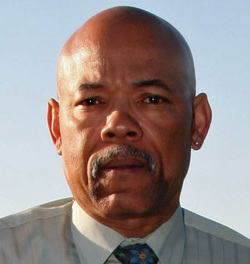 The hurdles have always attracted some of the best athletes in track and field, demanding as they do an amalgam of speed, strength, agility and technique. The high hurdles had just been introduced when Thad Wilson arrived on the Rockland track scene as a Nanuet High School freshman in 1966. But by the time he graduated in 1969, a perfect storm of conditions had propelled Thad to a storybook career that featured six Rockland County titles and a pair of barrier-breaking marks. Thirty-three years later, he began writing a second chapter to that tale – in Masters competition – which continues to this day.

Thad was the first Rockland hurdler to break the 15-second barrier in the 120-yard high hurdles, clocking 14.9 seconds as a senior in the 1969 County meet. He also was the first Rockland timber-topper to eclipse the 20-second threshold in the 180-yard low hurdles. His mark of 19.4 remained on the books after the 180 lows were replaced by the 330 intermediate hurdles in 1974. He shattered both hurdle marks by six-tenths of a second, a gaping margin in a sprint race.

The perfect storm swirled from a favorable confluence of coach, athlete and program. Coach Dave Hanson was in the midst of building a track dynasty at Nanuet, replete with a fledgling winter track program, when Thad entered the picture as a callow junior high student with talent that Hanson knew how to tap.

"Running hurdles was not my first choice of things I wanted to do in track and field," Thad says. "When I left Highview Elementary School for seventh grade I thought I could be a high jumper and a sprinter. Coach Hanson had other plans for me. On the bus to a junior-high meet with Kakiat Junior High in Spring Valley, he asked me if I wanted to run the 80-yard hurdles that day. I won the race and hurdles became my primary event."

Thad recalls attempting to master the high hurdles during a period when nobody in Rockland had yet become well-versed in skimming 39-inch barriers at full throttle. "I wasn't too good at it, but neither was anybody else in the county," he says. "We were all learning how to run the race. I remember that my stride between hurdles was too short and I had to take four steps instead of three. Much of my success in the high hurdles can be credited to the winter track program at Nanuet started by Coach Hanson. I was able to work on form and technique during the winter in preparation for the spring season."

All the training eventually reaped huge dividends for Thad. He won County titles in both hurdle races his junior and senior years, and also ran on Nanuet's winning 880 relay both years. He teamed with John Poletto, Frank Bria and Fred Hodges to set a County record of 1:31.1 in the relay. Thad did not lose an RCPSAL dual meet in the 180 lows for three years, and in the '69 season won every individual event he contested in dual meets: 12 in the high hurdles, 10 in the lows and two in the triple jump. He added three Section 9 Class B crowns and three State Qualifier gold medals to his total, and shared the Section 9 record in the 180 lows at 19.7.

Now fast forward to 2002. Thad had gotten into coaching track at St. Bonaventure High School in Ventura, Calif., after a decorated career in the U.S. Navy. "When I started coaching, I was showing the kids some hurdle drills and realized that I still had the muscle memory to run hurdles," he says. "I was in fairly good shape because I stayed in shape during my time in the Navy. I started doing track workouts after the high school team had finished their workout."

And so began the Masters era for Thad Wilson, an epoch that shows no signs of abating. He has won 19 USA Track & Field national masters titles spanning the 50-54, 55-59 and 60-64 age groups, six World Masters championships, set two world records, and last year was selected as one of the M60-74 Masters Track & Field Age Group Athletes of the Year. All he did in 2011 was capture the 100- and 300-meter hurdles and run on the world-record-setting M60-64 4x100 relay (47.93) at the World Outdoor Championships, set a global best in the M60-64 100 hurdles (14.37) at the USA Outdoor Nationals – his sixth straight age-group title in that event – and swept the 60-meter hurdles, long jump and pentathlon at the USA Indoor Nationals. Thad won the M55-59 100 hurdles at the 2009 World Championships, M55-59 100 hurdles and 400 hurdles at the 2007 World Championships, and has earned numerous silver and bronze medals in the national and world championship meets.

After high school Thad enlisted in the Navy in March 1970 and retired from active duty in November 1996 as a Master Chief Petty Officer, the highest enlisted rank. During his almost 27 years of service he was assigned to nine different shore commands and five shipboard commands. While assigned to sea he made four Western Pacific deployments (including Vietnam), two Mediterranean deployments and one North Atlantic deployment. He has visited six continents and more than 20 countries, and has garnered a plethora of awards, including the Meritorious Service medal, two Navy Commendation medals, two Navy Achievement medals, the Combat Action Ribbon, Joint Meritorious Unit Award, six Good Conduct medals, two National Defense Service medals, the Armed Forces Expeditionary medal, the Republic of Vietnam Campaign medal, and many others.

Thad is 61 years old and lives in Oxnard, Calif. He works as an engineer for AdvantEdge Technology and supports the Port Hueneme Division Naval Surface Warfare Center. He and his wife, Patricia (Smith) Wilson, a native of Spring Valley, have two children, Anne M. Tilghman and Thaddeus B. Wilson Jr., and five grandchildren – Tori, Kendall, Trinity, Imani and Thaddeus III.
---