Kim McDole - Ramapo 1983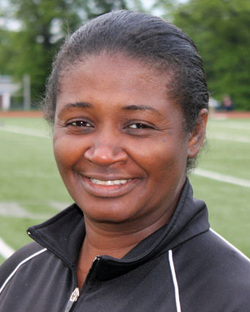 Kim McDole excelled in the jumps, sprints and relays while representing Kakiat Junior High, Spring Valley and Ramapo high schools, and the University of Houston.

Kim first served notice of her jumping prowess as a freshman with a New York State outdoor championship in the long jump. She claimed that honor again in her senior year, 1983, spanning 19 feet, 9 ½ inches to set a state record that still ranks as No. 10 all-time (as of 2010). No slouch as a sprinter, she took home a second gold medal by capturing the state 100-meter dash crown that same year, 1983.

Kim's collection of state medals also includes an Intersectional Medley Relay gold from her sophomore indoor campaign, running the 200-meter leg. Her Ramapo teammate, classmate and fellow Hall of Fame inductee, Debbie Grant, also ran on that relay.

The Loucks Games also served as a showcase for Kim's amazing leaping ability. She excelled on the White Plains long jump runway, taking first place her freshman and senior years, and second and third in her sophomore and junior seasons, respectively. Kim also found great success as a senior at the prestigious Penn Relays with a second-place finish.

After the high school season had concluded, Kim demonstrated her proficiency on the national stage. At the U.S. Junior National championships at Penn State, she finished second to Clair Connor of Rahway, N.J. However, she later defeated Connor to win the long jump in a summer international meet among American, Canadian and Italian junior athletes. She also finished second in a similar three-way international meet that summer.

Closer to home, Kim helped Ramapo to three straight Section 9 outdoor titles (1981-83) and a pair of Rockland County outdoor championships (1982-83). Her Ramapo quartet's 400-meter relay time of 48.1 was a County record when set in 1983 and still ranks No. 2 all-time, while her 19-9 ½ stood as the County record in the outdoor long jump for 26 years and also ranks No. 2 all-time. Her 19-3 indoor jump was a County record for 18 years and currently stands No. 3 all-time (as of 2010).

Kim was coached by Betsy Evans at Spring Valley and by Jim Pollard and Matt Mulligan at Ramapo.

At Houston, Kim just missed 20 feet with a 19-11 ¾. She placed fourth in the Southwest Conference indoor meet, and scored highly in several other major invitationals.

Kim, who is 45, now lives in Spring Valley with her three children: Kaylyn, 13; Trevon, 12; and Trevonfaith, 7. She works as a nurse at West Street Day Care Center in Spring Valley.
---