Dwight Olivier - Nyack 1981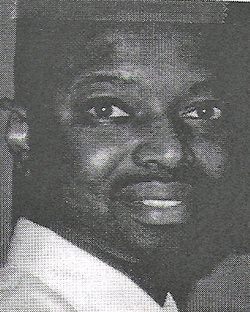 As a kid growing up on Waldron Terrace in Central Nyack in the late '60s and early '70s, Dwight Olivier had plenty of friends to play games with. Relay races pitting kids from Central Nyack versus kids from downtown Nyack made for spirited competitions, with chanting and hoopla and speed galore. Guys like the Sanders brothers, Lonnie Smith and Dwight's brother Leroy led the charge for the Central Nyackers, while Ernest Brownlee and Kermit Taylor headed the Downtown group.

The Nyack School District must be counting its blessings for reaping such a rich harvest of athletic talent from the Waldron neighborhood. Dwight and five of his seven siblings – Leroy, Janet, Margaret, Frank and Monica – excelled in track. Right next door to the Oliviers was the Sanders family, including Tom, a champion sprinter and football tailback, and his brothers Isaac and Mickey. And just a few doors down were the Roysters – Dawn became a basketball and track star – and the Smiths. Dwight was well familiar with the accomplishments of Lonnie Smith, the County record-holder in the triple jump, and distinguished himself in the same event.

"I was old enough to recognize what he was doing and I had already been competitive in track," said Dwight, who was six years younger than Lonnie. "I used guys before me as measuring sticks – Lonnie Smith, Sanya Owolabi [of Sleepy Hollow, the state record-holder at 53-4 ½] – seeing how they did sophomore year, junior year, no measure my progression."

Dwight's progression measured up nicely in the galaxy of Rockland's stars of that era – or any era, for that matter. He ranks second all-time in Rockland in both the indoor triple jump (48 feet, 4 ¾ inches) and 110-meter high hurdles (13.9 seconds), and fourth in the outdoor triple jump (48-4 ¼).

As a senior in 1981, he won the indoor Eastern States triple jump on the last jump of the competition, leaping 48-4 ¾ for a then-Rockland and Section 9 record; finished second in the triple jump and fifth in the hurdles at the indoor State meet, and third in the high hurdles and fourth in the TJ outdoors; won the hurdles and took second in the TJ at the Loucks Games; took second in the Penn Relays triple jump, losing on a tiebreaker to Marcus Edgehill of Pemberton, N.J.; and finished fifth in the triple jump at the Golden West Invitational.

He also swept the high hurdles, high jump and 400 hurdles at the outdoor Section 9 Class B meet, and scored triple golds in the high jump, hurdles and triple jump at the indoor Sections, leading Nyack to both team titles. At the outdoor County meet, he won the triple jump and high hurdles and clocked 54.3 for second in the 400 hurdles. A bruised tailbone and herniated disk short-circuited a promising outdoor campaign his junior year. Dwight was coached by Joe McDowell at Nyack and Joe LaPorte at the junior high.

After an intense recruiting period, Dwight chose Fairleigh Dickinson University and enjoyed two successful years with the Knights. Devoting more attention to the high jump, he scaled a personal-best 7-1 – not bad for a guy who stands 5-9 – as well as 51-2 for the triple jump and 13.6 for the college hurdles. As a sophomore he won the Metropolitan conference indoor triple jump, placed second at the IC4As and competed at the NCAA championships, also in the triple jump.

He transferred the following year to Michigan to take advantage of its premier training facilities and pursue his goal of qualifying for the Olympics. During his year at Michigan he competed as a Nike-sponsored open athlete rather than as a collegian and finished sixth in the triple jump at the 1984 TAC national championships. He competed one more season as an open athlete before a hairline foot fracture forced him to stop in '86. He returned to FDU and graduated in 1987 with a degree in psychology.

After graduation Dwight toiled as a case worker at St. Dominic's Home in Blauvelt, then started a day care center with his sister Claudia in Houston, Texas. He then returned to the Nyack area and worked as a counselor at the Summit School in Upper Nyack. That was followed by a stint as an assistant manager for residential treatment at McQuade Diagnostic Center in Newburgh, work as a paramedic and, from 2000 till 2009, as an ultrasound technician at the Newburgh branch of St. Luke's Cornwall Hospital.

Sadly, Dwight died in March 2009 at age 46. He suffered from a pulmonary respiratory condition relating to a chemical-exposure incident in 2002 and required oxygen assistance for normal activity. He lived in New Windsor with his wife, Sandra, and their baby daughter Arihanna. He had three other children – Christopher Dwight II, Shanice and Tamika.
---