Ron Edwards - Nyack 1960-62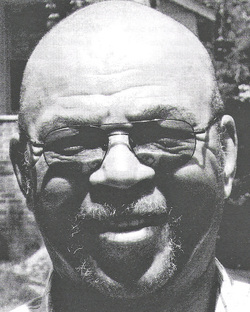 The Nyack track team won the Rockland County PSAL dual meet championship from 1958 to 1963, powered by a succession of high-caliber athletes who also starred in other sports. From 1960 to '62, one of the prime engines of the Indians' machine was Ron Edwards, who excelled as a high jumper and relay runner in track, the county's first 1,000-point scorer in basketball and a three-time All-County player in football.

Ron's finest moment in a Nyack track uniform came in the spring of 1962, his junior year, when he won the New York State high jump championship with a leap of 6 feet 2 inches. Synthetic track surfaces were just being introduced during that era, and up to that point Ron had jumped strictly off the grass and cinder surfaces that were standard at the time.

Jumping off an all-weather tartan surface for the first time, Ron immediately felt the difference when he initiated his Western roll straddle, planting his left foot and thrusting his right leg upward to "roll" over the bar facing down.

"It felt like I was going off a diving board," says Ron, who stands a shade over 6-feet tall. "When I planted, kicked and snapped, I felt myself rising up. I felt like I was climbing really good." Ron was so confident he didn't enter the competition until the bar was at 5-10. He sailed through 6 feet and 6-2 and won the event on the basis of fewer misses than the runner-up. There was some discrepancy over measurements when the eventual runner-up came down on the metal crossbar and bent it, Ron says, but it ultimately did not affect the outcome.

Ron learned to high jump from his cousin, Vic Walker, who competed for the well-regarded New York Pioneer Club. When Ron was 13 his father died at Easter time. After attending the funeral in Brooklyn, Ron stayed at his uncle's home in Brooklyn during Easter vacation. It was in his uncle's living room where Ron and cousin Vic strung together a line of his uncle's neckties to serve as an impromptu crossbar. Thus began the high-jumping career of Ron Edwards.

He showed immediate promise, jumping 5-8 as an eighth grader. Ron went on to capture the event three consecutive years at the Rockland County championship meet, and won the Section 9 title as a junior as well. His mark of 6-2 in 1962 broke a 13-year-old County record and he also cleared 6-2 ¼ in a dual meet against Pearl River. In the 880-yard relay, Ron teamed with Reggie Jenkins, Mike Purka and fellow Hall of Famer Don Clancy to set a County-record 1:33.5 en route to victory in the 1962 County meet.

Ron felt he could have leaped higher than 6-2 on any given day but his coach in the jumping events, Mike Longuil, would stop him after winning the event to conserve energy for the relay.

"We were in the track meet to win," says Longuil, who was an assistant to Coach Joe McDowell from 1956 to 1972. "I told him to save his best performance for the big tournaments. He was a natural athlete, a good all-around athlete."

Vertical leaping was Ron's forte but he was no slouch in the horizontal jumps, either. He earned a pair of silver medals in the long jump at the County meet, and scored points wherever McDowell chose to deploy him in dual meets. "He used to play it like a chess game, putting you where the team needed to win the meet," Ron says of McDowell, reeling off names of versatile teammates such as Jenkins, Clancy, Bernie Muckle, Hector Pagan, Karl Furstenberg and Jim Mettler.

Ron moved to Beacon in Dutchess County after his junior year and did not compete in track thereafter. He moved back to Nyack after high school and was drafted into Army duty, serving for two years in Korea. He later returned to Beacon and has lived there since 1981.

Ron worked for the New York State Department of Corrections for 18 years, operating out of the Fishkill Correctional Facility. He served as a state-certified instructor for defense tactics.

Over the years Ron stayed in shape playing YMCA and pickup basketball and competing for the Rockland Warriors semipro football team. His "cross training" paid off at the International Police Olympics, where he tied for first in the high jump twice, in 1984 at Arizona State (5-8) and, at age 41, jumping 5-10 at Ohio State in 1986. That same year he finished third in the shot put and ran on a second-place 4x100-meter relay representing the Fishkill Correctional Facility.

Ron, who is 64, was inducted into the Rockland County Sports Hall of Fame in 1995. He is retired and lives in Beacon with his wife, Cindy, to whom he's been married 22 years, and their 12-year-old son, Ronald Jr.
---