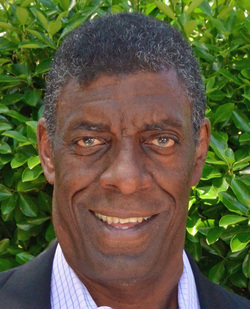 DARRYL BROWN - NANUET 1971
Who knows how high or how far Darryl Brown could have jumped if he devoted himself exclusively to track & field? A man of multiple talents, Darryl is most recognized for his accomplishments on the basketball court at Nanuet High School and Fordham University. A broadcast journalism major at Fordham, he enjoyed a 30-year career at ABC Radio Networks, retiring as Executive Vice President/General Manager. But one nagging question lingers, hanging in the air like a Bob Beamon mega-leap: What if Darryl stayed with the sport, jumping throughout college and in amateur open competition?

We'll never know the answer. What we do know, though, is that Darryl ruled the jumping fiefdom during his career at Nanuet and left an unassailable legacy in Rockland County track & field. Three straight years he won the County triple jump – the only Rockland male athlete to achieve that feat in the 55 years the event has been contested. The first Rocklander to crack the 46-foot barrier, his County record of 46 feet 1 ½ inches stood for five years. He also placed third at the prestigious Penn Relays at 45-8. In the high jump, Darryl won a pair of County titles and his County record of 6-4 ½ remained for seven years, eclipsed in '77 by fellow Hall of Famer and Nanuet alum Rick Carey. Darryl added a pair of Section 9 crowns to his County conquests, and was undefeated in the high and triple jumps in Section 9 competition in 1970 and 1971.

Like many Nanuet track athletes of his era, Darryl reveled in contributing to what he called the "glorious tradition" forged by Golden Knights track coach Dave Hanson and his assistants. As the smallest public school in the county, Nanuet struggled in most team sports playing against Rockland schools two to three times larger in enrollment. Track was another story, however: Under Hanson's guidance, Nanuet was a perennial Rockland and Section 9 champion from the mid 1960s to early 1980s.

"One of my greatest honors was being coached by the legend of Nanuet High School sports, Dave Hanson," says Darryl. "He treated us like adults. He was never a yeller but he did let you know he had expectations of your performance and it was up to you to deliver. Dave knew how many points the team needed to win a dual meet and he knew where he could count on getting those points."

When Dave Hanson and Dick Teetsel co-founded the Nanuet Relays in 1968, Darryl was a tall, skinny freshman who teamed with junior Thad Wilson, a Hall of Fame hurdler, to place third in the triple jump relay. "It gave me my first taste of what success outside of basketball was all about," Darryl says.

Darryl's jumping technique was a bit unconventional but it worked for him. He developed his high-jumping style after watching Olympic gold medalist Dick Fosbury – inventor of the now-standard Fosbury Flop technique – perform his then-revolutionary style in meets televised on Wide World of Sports back in '68, when Fosbury was preparing for the Mexico City Olympics. Unlike the prevailing straddle technique, in which the jumper cleared the bar facing downward, barrel-roll style, a flop jumper cleared backwards, facing up, with head and shoulders clearing first, followed by an arch of the back and kick-up of the legs. Darryl performed what he called a "modified flop," getting his head and upper torso over first but contorting his 6-foot-7 frame while clearing. "It may not have looked pretty but it served its purpose," he says. "Dave Hanson allowed me to develop my own style by taking advantage of my body frame and vertical leaping ability."

Unlike basketball, where the outcome may be in doubt until the final buzzer, track provides instant feedback on where you stand – your input determines your own fate. "I loved the basics of track and field competition," he says. "Everything happened in the moment so the immediate emotional charge was always attractive to me. Whether you jumped, threw, ran hurdles, distance or sprints you knew exactly how much you had contributed to the team when your event had been completed."

Of course, Darryl wasn't the only contributor on those well-rounded Golden Knights teams. He was surrounded by talented athletes such as hurdler Wilson, fellow Hall of Famer and Fordham alum Paul Nowicki in the middle distances, quarter-miler Alan Roy, half-miler Craig Johns, distance runners Bill Borghard and Ed Fuhrman, and sprinters Frank Bria, John Poletto, Fred Hodges and Tommy Harris.

Winters for Darryl were spent on the hoops hardwood, where he led Nanuet to the 1971 Section 9 Class B championship, was Rockland co-MVP with Clarkstown's Bob Mathias, earned two first-team All-County selections, and amassed a then-Rockland record 1,188 career points. He took his prolific basketball skills to Fordham (alas, no track), where he earned a full scholarship and "spent some of the happiest years of my young adult life," playing basketball in Madison Square Garden and on Fordham's Rose Hill campus in the Bronx. Darryl earned Academic All-America honors in 1975 and graduated as the school's ninth-leading career scorer with 1,233 points and eighth-leading rebounder. He was MVP of the 1975 ECAC Holiday Festival while leading the Rams to an upset victory over No. 5-ranked USC in the championship game.

After graduating from Fordham, Darryl was chosen in the fourth round of the NBA draft by the Boston Celtics and was eventually cut, but not before getting a chance to work out with NBA Hall of Famer Bob Cousy, one of his career highlights. Darryl then was invited to play on the European circuit, where he played in 10 different countries over 2 ½ years. He returned to Fordham and entered the graduate program for broadcast management, earning his master's degree in 1980. He spent the first 17 years of his career with ABC Radio in New York before transferring to Dallas. He developed programming for national audiences and got to work alongside the inimitable Howard Cosell, whose advice about emphasizing the show business aspect of radio helped him establish such programs as ESPN Radio, American Top 40 with Casey Kasem and the Tom Joyner Morning Show.

Darryl's latest professional venture is a website called BrownBoys3 Media, which assists small companies with marketing their business. The site is in the process of launching. He is also in his second year serving as a trustee on the Board of Directors at Fordham, offering his business acumen to further the aims of the institution. Darryl places paramount importance on helping today's young people keep their priorities in order and focus their efforts on charting a meaningful career path. "I want to show today's student-athletes that it's not so much about what sports teaches you, but about what comes after that," he says.

Darryl, who is 61, lives in Dallas with his wife of 20 years, Jean Ann, and sons Darryl Jr., 13, and Andrew, 11. He also has a daughter, Sarah, 37.

Darryl joins seven other Nanuet track alumni, in addition to Coach Hanson, in the Rockland Track & Field Hall of Fame: Wilson, Nowicki, Carey, Tony Harlin, Don Berich, Bret Watzka and Stanley Thomas. Darryl was inducted into the Fordham Athletic Hall of Fame in 1987, the Rockland County Sports Hall of Fame in 1988, and was a charter member of the Nanuet High School Sports Hall of Fame in 2002.


---