Phil Caraher - North Rockland 1987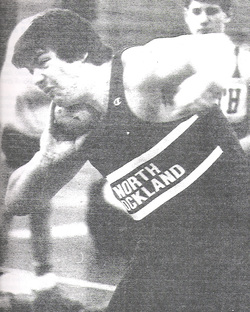 For sustained excellence, few schools can match North Rockland's record in the weight events. From 1971 to 2001, a Red Raider won the County-meet shot put 20 times, including 12 in a row from 1982 to 1993. With a pair of ex-throwers in charge – head coach Gene Dall and former longtime weights coach Bob Murphy – is it any wonder North Rockland became the county's throwing capital?

Leading the parade of Red Raider musclemen was Phil Caraher, the "baby brother" of the Caraher family – all 6-foot-6, 225 pounds of him. The youngest of six Caraher boys, Phil joined track to stay active while dealing with the extended illness and death of his father during Phil's first two years in high school. "I think track gave me something to do and an opportunity to channel my energies into something," says Phil, who grew up in the village of Haverstraw. "I enjoyed competing but the individual nature of the sport was probably as appealing as anything."

Phil responded well to pressure and usually performed his best in big meets. He won the New York State indoor and outdoor championships in the shot put his senior year and finished second in the discus. He also placed third at the Pathmark indoor nationals, sixth at U.S. junior nationals, and won both shot and disc at the Eastern States, Colonial Relays and Loucks Games.

In addition, as of 2010 he ranks eighth all-time in New York State in the discus (189-6) and ninth in the outdoor shot (64-8), and his disc mark bettered the existing County record by almost 19 feet. His 18-year-old County indoor record in the shot, 62-6, was broken in 2005, as was his 18-year-old Section 1 outdoor record, both by Tappan Zee's John Hickey.

On the high school level, though, the meet Phil holds in the highest esteem is the national-caliber Golden West Invitational in California, where he placed fourth in the 16-pound (open) shot and sixth in both the 12-lb. (high school) shot and disc. "My biggest achievement in high school was making it to the Golden West meet," he says. "It was the first time I felt the thrill of competing at the national level against all the best in the country."

That feeling would be duplicated numerous times during Phil's blue-ribbon career at Penn State, which he attended on a full athletic scholarship. He filled out to 275 pounds his senior year and topped out at a brawny 290 while pursuing his master's degree and competing in 1997. Phil's premier accomplishment for the Nittany Lions was a second-place finish in the 1992 NCAA indoor championships with a personal-best throw of 62-6 with the 16-pound shot. He popped that throw in the final round, moving him from fifth place to second. "It's what sports are all about – performing at your best when you need to," he says.

All told, Phil finished in the top 10 at the NCAAs six times in the shot – indoor and outdoor in 1990 and '91, and indoor in 1992 and '97, and he attained All-America status four times. He won the IC4A (Eastern) shot-put title indoors and outdoors his senior year and earned All-Conference honors (top-six finish) at IC4As 10 times – eight times in the shot and twice in the disc. Phil finished his career as the second-farthest shot-putter in school history (Behind C.J. Hunter) and was team captain his senior year. Outside of collegiate competition, he finished ninth in the U.S. Olympic Trials in New Orleans in 1992.

Phil credits his coaches with guiding him expertly through his stages of development. In high school, he cites the work of the two Bob Murphys – one, the team's weights coach, and the other, a North Rockland physical education teacher who also coached in New Jersey. In college he received advanced coaching instruction from Bill Whittaker, the throwing coach at Penn State, and Harry Groves, the longtime head coach. "I spent five years competing at Penn State and 10 years there total," Phil says. "I developed a close relationship with both of them and still keep in touch to this day." He also benefited from the weight-training guidance of another coach, Herman Pinque, during a six-month period when he was training for the '92 Olympic Trials in Chapel Hill, N.C.

After obtaining a B.S. in hotel and restaurant management in 1993, Phil decided to change directions after finishing with track and field. He went on to earn a B.S. in exercise science in 1995 and a master's degree in biomechanics in 1997, both from Penn State. He then moved back to New York and obtained a doctorate in physical therapy from New York University in 2001.

Phil worked as a physical therapist in a private practice in Manhattan for a year, then moved back to Rockland and worked for two years in a management position for HealthSouth, one of the nation's largest health-care service providers. In August 2004 he moved to Chapel Hill, N.C., and in January 2005 launched his own business, P.A. Caraher Physical Therapy Services. He markets his company to facilities needing orthopedic, sports medicine or geriatric physical therapy services.

"This is a fertile environment for physical therapy services," Phil says. "North Carolina is a big retirement state and Chapel Hill is a big retirement area. With all the baby boomers coming to live here, this is an opportune place to be for me."

Phil, who's 35, doesn't have to go far to reach out to family. Three of his brothers – Dave, 44, Dennis, 41 and Pat, 39 – now live in the Chapel Hill area, and his mother, Nancy, recently moved there. His other brothers, John, 43, and Will, 37, still reside in Haverstraw.
---