Lonnie Smith - Nyack 1975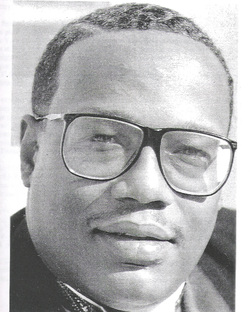 On a team other than Nyack, Lonnie Smith might have been the sprinting kingpin. But when you're surrounded by speed merchants, you learn pretty quickly that your fourth gear is somebody else's first. Nyack had quicksilver dashmen like Jim "Butch" Pugh, Otto Pearson, Kenny Bradley, Jim Barnes, Hugh Roach, Gary Curry, Arthur Downey and William Cozart. Some practices seemed as intense as an Olympic final.

"I said, 'I'm going over to the field events. I'm not gonna make it in the sprints,' " recalls Lonnie, who is 5-foot-9 and weighed 147 pounds in his prime. Besides, he had been a 20-foot long jumper in junior high, and while growing up on Waldron Terrace in Central Nyack, he and neighbors Dwight and Frank Olivier were always "jumping over fences, running and jumping, no matter how dangerous."

Lonnie gravitated toward the long jump his freshman year and had no inclination to try the triple jump, but Nyack coach Joe McDowell thought the long jump/triple jump combination was a natural for him. Thus began a four-year reign of success in the hop, skip and jump. Lonnie set the still-standing Rockland County record of 48 feet 10 ¼ inches (a wind-aided mark) while winning the Loucks Games in his senior year, 1975. He finished second at both the Penn Relays and the Eastern States Championships, took fourth at the New York State meet (after finishing third as a junior), and capped his season with a sixth-place finish in the Golden West Invitational, the most prestigious schoolboy meet in the country at that time.

Lonnie also had the best legal (non-wind-assisted) mark in the state that year, 48-3 ¾, which he jumped to win his second straight County title. That leap set a meet record and is the farthest winning jump at the County meet by more than two feet, spanning 50 years (1960-2010). Lonnie was barely edged out for first-team All-State honors by Les Gordon of New Rochelle, the State meet champ.

The breakthrough for Lonnie as a triple jumper came in the first meet of spring track his junior year, a dual meet at Nanuet. That day, he tied the County record of 46-1 ½ set by Nanuet's Darryl Brown in 1971. Later in the season he took sole possession of the County record by bounding 46-11 in a dual meet at Clarkstown South. He also won the Section 9 Class B and State Qualifier meets, and placed third at States and New York Relays.

Among his most memorable performances was the runner-up finish at the '75 Penn Relays in 47-1 ¼, losing by nine inches to local favorite Ron Hunt of Chester, Pa. "For me to place at the Penn Relays, I was ecstatic," Lonnie remembers. "It was the first big meet of the spring, a big forum." His greatest disappointment came at the Section 9 meet at West Point, which he won with a meet-record jump of 47-6 despite taking off way behind the board, he says. "I had fouled in my first two attempts and I had to get a safe jump, so I trotted down the runway. I must have been two feet behind the board."

Lonnie wanted to continue competing after high school, but with his family hard-pressed to finance a college education, he entered the work force right after graduation. He was hired by Lederle Labs in Pearl River – now Pfizer – starting as a janitor and working his way up to his current position of instrumentation technician in pharmaceutical maintenance. In 1981, at age 25, he joined the Army National Guard. He took basic training and technical (electronics) training at Fort Gordon, Ga., the elite signal corps for all branches of the military. Lonnie served in telecommunications as a civilian soldier until retiring from active Guard service in March 2001 with an honorable discharge.

Lonnie, who's 54 (as of 2010), is a Rockland native who has lived in Nyack, Spring Valley and Congers and currently resides in West Haverstraw with his wife, Vanessa. He has two stepsons, Paul Harris, 30, and Shawn Harris, 27.
---