Otto Pearson - Nyack 1977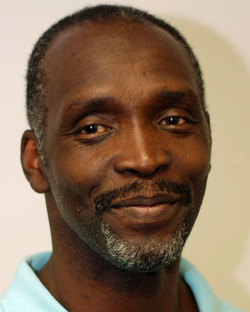 While his mother invited neighborhood friends over the house for cards on balmy summer evenings, young Otto Pearson would be out racing his buddy Shulton Whitley along Route 59 in Central Nyack. With Otto on one side of the highway and Shulton on the other, the daring duo would dash from the House of Power motorcycle shop to the A&P, a distance of a couple hundred yards. This routine went on for three summers, even after Otto got clipped by a passing car and landed chin-first on the ground.

Given their dedication to running, just for the sheer joy of it, it's no surprise that Otto accepted Shulton's invitation to join the Nyack track team in 1975, their sophomore year. After all, the makings of a successful sprinting career had already been set in motion. "He talked me into it," Otto recalls, "and I'm glad he did."

While Shulton went on to hurdling fame, Otto made the sprints his domain. By his own admission, Otto was not an explosive starter. At 6-foot-2 and 195 pounds, he took a while to get those long legs cranking. But once he reached top-end speed, he entered a 'zoom' zone that few Rockland dashmen have ever dared to tread.

Otto blazed a 21.7 in his signature event, the 220-yard dash, a time that still ranks No. 7 on the all-time Rockland list, more than three decades later. He also rocketed to a 9.7 100-yard dash, a clocking bettered by only four other Rockland speed merchants. And longtime track followers still get excited recounting his blinding anchor legs on Nyack's potent 880 relay, which finished second in the 1977 New York State championships and sped to County titles in 1975 and '77.

Otto captured the Rockland County 220-yard title two consecutive years, setting a meet record of 22.2 his junior year. He also claimed Section 9 Class B meet crowns in the 100 in '76 and 220 in '77. He always kicked into a higher gear at the Section 9 State Qualifier meets, seizing gold medals in the 220 his sophomore year and the 100, 220 and as anchor leg of the 880 relay his senior year.

The '77 State Qualifier quartet of Jerry Blow, Shulton Whitley, Willie Taylor and Otto Pearson turned in one of the finest performances in Rockland relay history, breaking the Section 9 record by a full two seconds with a blistering 1:28.9, which also stood as the County record for 30 years, until 2007. Some stopwatches caught Otto in sub-21 seconds for his anchor carry.

Otto's rivalry for dash supremacy with Jerry Blow – who transferred to Nyack as a junior in '77 after attending Nanuet and Clarkstown South – attracted the lion's share of attention and reinforced Nyack's reputation as the sprinting capital of Rockland County.

In '76, when Jerry ran for South, Otto swept the 100 (running 9.7) and 220 in their double dual meet at Pearl River. At the County, Section 9 and State Qualifier meets in '76 and '77, Jerry won the 100 four times and the 220 once, and Otto took the 220 four times and the 100 twice (they ran in separate classes for the Section 9 meet in '76). They finished one-two a total of seven times in that span, with Otto winning four of those battles.

"Jerry was my favorite to run against," says Otto, who was coached by Joe McDowell for his sophomore and senior years and by Jim Ashcroft as a junior. "He was really the only one I had any competition with. He rose to the occasion and made it a true race. Jerry came out like a bullet. To beat him out of the blocks was semi-impossible. If you could stay with him out of the blocks, you improved your chances of winning."

Otto took his sprinting talents to New Haven, then a Div. III school, and etched his name on the record board with school marks in the 55 meters, 6.1, which still stands, and 100 meters, 10.5, which was broken just last year. He also won the ECAC championship in the 60-yard dash three straight years, and ran a 47-second leg on New Haven's nationals-qualifying mile relay. Otto continued racing until 1984, when he tore a thigh muscle while winning the 60 dash at the West Point Invitational. For all intents and purposes, his running career was over after that race.

Otto, who turned 52 on May 13, lives in Middletown with his wife of 16 years, Madreana. The Pearsons have five children: Dajuan, 27; Otto Jr., 25; Samuel and Lawrence, both 23; and Sheonia, 19. Dajuan, Samuel and Sheonia are Otto's stepchildren. Professionally, Otto's assembles and installs computerized cash registers for high-end stores, working out of the Newburgh branch of a California-based global software company.
---