Joe St. Lawrence - Suffern 1945-64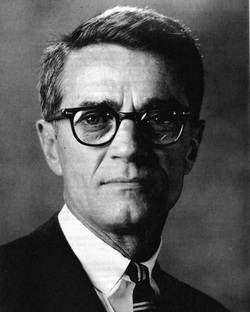 Joseph T. St. Lawrence, known as "Joe" to friends and family members, was known and addressed by two generations of Suffern High athletes as "Coach", or "Coach Saint". When speaking of him in conversation he was simply "the Saint" – just like the famous spy mystery book character created by Leslie Charteris made famous in the 1940's radio show by Vincent Price and the 1960's TV series featuring Roger Moore. When referring to him this way, they were not necessarily conjuring the image of the detective Simon Templar. It was intended as an affectionate and respectful shorthand nickname for a man who generated their sincere admiration.

The saga of "the Saint" -- and his contributions to Rockland County Sports, his own community in Suffern and Ramapo, and to the County of Rockland while serving in the New York State Assembly and as County Treasurer -- is well-known to native Rocklanders of the past 60 years. He was a leading figure from a generation of World War II veterans who put down roots in a sleepy, rural Rockland County and helped to skillfully guide its transition as it evolved into the densely populated suburb we know today.

His contributions both to sports and the community have been thoroughly recognized by the dedication of the fabulous Joseph T. St. Lawrence Community Health and Sports Center in Hillburn. The purpose of this writing is to speak specifically to his stellar contributions to the sport of Track and Field in Rockland County.

When we look at the members of our Track and Field Hall of Fame and see the astounding quality of the athletes that have been produced here, one is bound to question how did this incredibly competitive environment in Track get started?

Many would immediately and willingly give credit to Joe St. Lawrence who was the first of many of the "pioneers" in encouraging the growth in the quality of the sport. Without argument what he did was to start the momentum that other coaches following him kept generating. Men like Hugh Short, Dick Teetsel, Ray Bader, Mike Adrian, Joe McDowell, Dave Hanson, and others who built on that first push toward greatness. With the start they inspired, a new generation of coaches have kept the quality of Track and Field programs increasing exponentially over the years.

Within 25 years of the arrival of Joe St. Lawrence, "little" Rockland County which grew from 6 to 11 high schools became one of the most competitive Track and Field areas in the state.

Joe St. Lawrence's zeal for Track and Field began in his youth out in Sayville, Long Island, on the south shore of Suffolk County. While diminutive in stature, he was an outstanding athlete at Sayville, grabbing All-County honors in football, basketball, baseball, and track. He led team scoring at Sayville in football, basketball, and track, and led his league in baseball with a .346 batting average! Having both speed and endurance, "Saint" was Suffolk County champion in the 100 yard dash and the 880 yard run. He set a Sayville High School record in the 880 run that lasted over 35 years before it was finally broken.

St. Lawrence then enrolled at Blair Academy in New Jersey. While there he led scoring in basketball for 2 seasons and was All-State honorable mention in football. In track, he became the New Jersey State Champion in the long jump. He led Blair's team scoring showing incredible versatility competing in the 880, high jump, long jump, hurdles, javelin throw, and relays. He was not finished as an athlete by any means.

After a brief stint at Manhattan College, St. Lawrence attended Cortland State College, where he majored in Physical Education and Health. While there, he followed his old patterns, again became the leading scorer in football, basketball, and track. He set 6 college records in track 3 individual state collegiate championships. Most famously, he scored 5 individual wins in a dual meet against St. Lawrence University in 1939. The headlines read "St. Lawrence beats St. Lawrence" in the sports pages of Central and Northern New York that weekend.

After graduation he continued competing in track, winning the Adirondack A.A.U. Association Championships in the javelin and long jump. Competing the next year for the South Shore A.C., he won the Association Championship in the 880 run and long jump, and won 4 events at the Nassau County A.A.U. Championship meet.

His first teaching job took him to Catskill, New York. He did not stay there very long, but a monumental event happened while there. He met and married the beautiful Marguerite Clinton Downey. Now having more responsibility, he sought employment with better financial prospects. As luck and the reality of war would have it, in 1942 Coach Ed Greene of Suffern entered the Navy as an officer, and a job opened up as Athletic Director and football coach in Ramapo District 1. "The Saint" took the new job at Suffern only to find himself within a year just as Coach Greene had -- an officer in the U.S. Navy for "the duration". As the war wound down he was discharged and returned to Suffern High as AD, teacher, football coach, and track coach.

Right from this second start at Suffern in 1945-46, "the Saint" began the push to make his track & field teams something special. In 1946 he became the first Rockland County coach to bring a team to the Penn Relays, where his boys finished sixth out of 14 teams in their heat in the one mile relay and placed fourth out of 8 teams in their heat of the 440 relay. One of those boys was Ralph Consiglio, who eventually succeeded St. Lawrence as head coach some 20 years later. That year the team also journeyed to the Columbia Interscholastic Meet in New York City to compete, as well as the Englewood Relays in New Jersey. Having to compete at that higher level did have its positive effects in nurturing the competitive instincts of the younger Mounties.

St. Lawrence's football teams were successful at the brand-new McConnell stadium, winning 3 Rockland County PSAL Co-Championships. In 1949, another Cortland graduate, George Fuge, was hired at Suffern. St. Lawrence stepped down as football coach hiring Fuge as head football coach, head wrestling coach, and assistant track coach. He remained as the head track coach and in later years became cross-country coach as well.

It was at this point the era of the "Trackless Wonders" began. Despite having no track at the new Suffern athletic fields, and while persistently lobbying the school board to install one, St. Lawrence kept doing what he could to have his athletes excel and to see the sport improve in organization and competitiveness. He and Coach Fuge installed jumping and throwing facilities, bought hurdles, and actually lined the football field enough to host the very occasional home meet on the grass at McConnell stadium*. Mostly the Mounties traveled for 99% of their competitions, going to Englewood, Newburgh, New Paltz, Middletown, Philadelphia, and New York City as well as to all the Rockland County venues. They also competed in pre-season or dual meets with Ramsey, Westwood, Don Bosco, Fair Lawn, Port Jervis, and Tenafly. The Mounties certainly traveled around. The joke was that if the bus driver ever got lost, someone on the bus would somehow know the way wherever they were going.

During the war, racial segregation in the Ramapo District was formally ended by decree of the State Commissioner of Education when he ordered the closing of the Brook Street School in Hillburn and the immediate integration of students and teachers of color into the Hillburn School. Up to this point, many of these students of color had been marginalized, and had not really been successful at being assimilated into the high school community.

When these newly integrated students began to appear at Suffern High after the war, it was Joe St. Lawrence who reached out to get them involved in sports, especially his track team.

By the early 1950's when all the boys from Hillburn got off the bus taking them home from track meets, they proudly made wise cracks about how tiny little Hillburn had outscored the guys from Suffern, Tallman, and Sloatsburg. That "reaching out" might seem like a small thing now, but it looms very large in the memories of those who lived through those times. Many of those young men went on to excel in sports at Suffern High and it made a positive difference in their lives

In 1951, another first happened. Coach St. Lawrence began taking boys during the winter to compete in indoor track meets in New York City. At first it was an informal thing; a "club" of sorts. "The Saint" thought it would not only be good for his team, that it would be great for everyone who could field a team. When he eventually became the Section 9 Chairman of track he pushed for and was eventually successful in getting the NYSPHSAA to establish a time frame for an Indoor Track season. In 1960 he secured the use of Gillis Field house at West Point as an occasional practice facility for use of local Section 9 schools. This marked the beginning of indoor track in Rockland County, not something that was all that popular at the time. There were those who thought that St. Lawrence was somehow "cheating" and trying to gain an advantage by providing athletes with additional opportunities to improve by running indoors. Within 10 years they were praising him as a "pioneer" for starting it all. Today there are just as many competitive opportunities in indoor track in the winter as there are the outdoor season in spring.

Joe St. Lawrence had the great opportunity to receive a Fullbright Scholarship from the State Department in 1953-1954. He and Marguerite and their 3 sons packed up and moved to Baghdad for a year, before the fall of the monarchy. He served as a consultant to the Minister of Education in Iraq, and quite naturally he was appointed to be the advisor-coach of the Iraq Olympic Track and Field Program.

Upon returning to Suffern after this great experience, he went back to elevating track and field back at home. He became active at the Sectional level, and his contributions as Section 9 Chair helped to better organize the sport of track as well. He wrote a handbook for administering the Sectional competitions. He helped to do the same for the Rockland County PSAL along with Rudy Rejholic of Nyack. The two of them also organized the Rockland County Track Officials' Association to create a crew of impartial certified track officials to conduct meets fairly and efficiently.

Another innovation of Joe St. Lawrence was in 1960 when he introduced the Triple Jump into high school competitions locally (then referred to as the "Hop, Step, and Jump"). As usual, it was first resisted, but by the early 60's athletes were jumping over 45 feet to win the Rockland PSAL Championship and a new competitive opportunity for excellence was once again opened up.

Coach St. Lawrence had the opportunity of still being the coach when two of his four sons were competing on the Suffern team. His oldest son, Joe, was a miler and half miler who captained the team in 1963. His second son Timothy joined the team as a freshman that same year, but as a pole vaulter who showed tremendous potential. That forced the hand of Coach St. Lawrence to produce another innovation in Rockland County Track. He purchased fiberglass vaulting poles, and strove to learn the new technique of using these poles as well as to get others to start using them. Just read the biography of Tim St. Lawrence on the Hall of Fame web site because this is a whole story unto itself.

As a coach from 1946-53 and 1955-64, St. Lawrence won 6 Rockland County PSAL Championships, 5 Section 9 Championships, was 6 times Section 9 runner-up, and the winner of 2 Newburgh Relays, 2 Hudson Valley Relays, and several other Invitational titles. His Cross-Country team in 1956 won the Section 9 Class B Championships and was second in the NYSPHSAA state championship. He coached two individual State Champions and had eight state place winners and three relay teams get state medals.

As a coach he motivated thousands of athletes over the years, and not just the ones he specifically coached. Even when he left coaching and went into public service, he was a fixture at every meet. When Girls' Track got started, Joe Saint was its biggest booster. His unbridled enthusiasm for the sport and for the efforts of its athletes was contagious to everyone in attendance. His encouraging words and advice to athletes were never rejected and usually enthusiastically embraced. By lifting the level of the sport in our little county, by creating all the new opportunities to flourish in competition, he has indeed motivated generations of athletes, many still yet to come.

To Coach "Saint" – Rockland County thanks you again for all you did.
---