Cliff Faist - Spring Valley 1946-48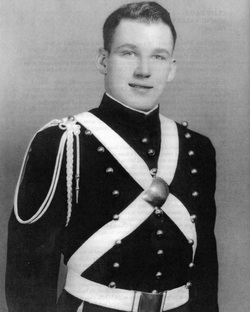 Clifford Faist is being honored for a track career as a miler, highlighted by three Rockland County championships, two Section 9 titles, a fourth-place finish in the 1948 New York State championships, and the distinction of winning all but one race against Rockland competition over a three-year period, 1946-48. He also set a meet record at the County championships with a time of 4:40.5, and improved to 4:38.0 at the State meet.

But the measure of the man far exceeded his accomplishments on the cinder tracks of Spring Valley and other Rockland schools. Cliff received two Purple Hearts after being severely wounded twice in the Korean War – first by burning napalm and later having his left leg shattered by a bomb blast and amputated. He also took shell fragments that remained in his lungs for the rest of his life. He returned home to Spring Valley to raise a family, earn a college degree and enjoy a distinguished career as a research engineer. Although felled by a brain tumor at age 66 in 1995, Cliff never lamented his fate. Quite the opposite, in fact: he was a pillar of strength and brought immense pride to his family and the Spring Valley community.

"The loss of a leg to such a gifted athlete could have made anyone very bitter in life," says Allyson Faist, the youngest of Cliff's three daughters. "My father never spoke of his loss nor his achievements until I forced him to when faced with a terminal diagnosis. There was no complaining or self-pity. He showed strength and courage." Cliff's second daughter, Lisa, expressed similar sentiments: "He had one wooden leg, but he was not disabled," she says. "I held him in very high esteem."

Cliff grew up as one of eight children – seven of them boys – in the Faist family from Pascack Road in Nanuet. Since Nanuet did not have a high school at that time, the Faist children attended nearby Spring Valley High School on South Madison Avenue. Cliff was an outstanding athlete who lettered in four sports – football, wrestling, track and basketball. In track meets Cliff wore school-issued spiked shoes because he couldn't afford a pair. Upon the recommendation of Coach Mike Adrian, who also coached him in football, Cliff would run back and forth to school to supplement track practice, adding 3 to 4 miles to his daily workout routine.

"The coach told him not to hitchhike or take a ride; he had to run the whole way," says younger brother George Faist, 81. Another major influence on his running career was Suffern coach Joe St. Lawrence, who mentored him after meets and offered advice and coaching tips. "He was an inspiration to Cliff," George says.

Cliff had little experience in wrestling but when the coach needed someone to fill a weight class he would work out with the team after finishing basketball practice. Due to his inexperience he absorbed several losses in the 165-lb. class but was never pinned. When the team needed someone to fill the unlimited weight class (heavyweight plus), Cliff obliged and, giving away at least 20 pounds, wound up winning a County title. "Once he got those big boys on their backs they could not get up and he would win," says George, who was County runner-up at 165 lbs. and probably thrilled he didn't have to compete against his brother, who was two years older.

Cliff fell a year behind in school after contracting pneumonia and also was held back a half-year due to his December birth date. Since he would have been 19 years old during his senior year, his eligibility to participate in sports in the public school system was in question. He transferred to the New York Military Academy in Cornwall for the 1948-49 school year, earning a full athletic scholarship to participate in track and wrestling, and graduated in 1949. It was at the USMA that Cliff "became polished, learned manners, and really became a man," according to his wife, Elizabeth.

Cliff served on the front lines in Korea with the 15th Infantry Regiment, Third Division, as a rifleman and machine gun operator assigned to the heavy weapons platoon. Both of his injuries were life-threatening but especially so after the leg loss and amputation. Army doctors considered him too far gone to survive and placed him in a hospital "quiet room" five times, expecting him to die. "Though I lost a leg … I was given a choice to live or die," Cliff said in a 1995 veterans publication article titled "The Quiet Room." "When I made the choice to live, I knew I had to live up to it … and deal with whatever came down the path." Later in the article, he was quoted as saying, "I recall thinking, 'You're not taking me without a fight. I never gave up on life and never will.'" In addition to his two Purple Heart citations, Cliff earned the Korean Service Medal with two campaign stars and the Combat Infantry Badge.

After being discharged from service in April 1953, Cliff returned to Spring Valley and led a full and productive life. He built his own home on Route 306 in Monsey, attended night school for 7 1/2 years to earn his engineering degree from Fairleigh Dickinson University, and together with Elizabeth, raised three daughters. While employed at Curtiss-Wright in New Jersey, Cliff developed the seals and oil delivery for an aircraft engine, and assisted in the development of the first fuel-injected engine. He later spent 20 years as a mechanical engineer at Texaco Research Labs in Beacon, N.Y.

Cliff was married 44 years to Elizabeth (Boese), who is 80 and resides in an assisted living facility in Albany. He is also survived by his sister, Lida Faist Palmenberg, 94, of Nanuet; brothers Ralph, 93, of Pensacola, Fla., and George, 81, of Englewood, Fla.; daughters Leslie Wingel Ruhlmann, 58, of Chaudon, France, Lisa Faist, 56, of Hardy, Va., and Allyson Faist, 53, of Houston; and grandsons Mathieu Wingel, Yann Wingel and Ross Stanton. Another grandson, Colin Stanton, died in 2003. Cliff was predeceased by his brother Bill. Twin brothers Fred and Frank died after him, and his oldest brother, Charles, died last year at age 94. Fred's son Paul was a standout hurdler for the Spring Valley track team in the early 1970s.

Like her father, Lisa Faist acquired a love of running and has pursued that avocation for 40 years, winning many awards in road racing. Her son Ross, a former schoolboy soccer player, is the third generation of the family to take up running, having recently completed a half-marathon.
---