Bret Watzka - Nanuet 1976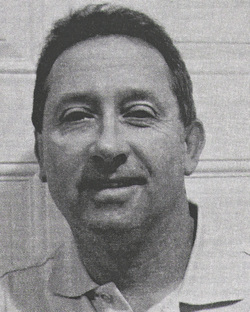 Bret Watzka was a product of his era. One look at the grainy photos of Bret with his mop of curly brown locks and you know instantly he was a child of the '70s. Bret also mirrored the high-volume training of a 1970s distance runner, but he took that philosophy a little farther than most. In those days running was almost a spiritual experience for him: There's a hole in your soul if you don't run on Sunday, he preached.

Oh, he was fanatical, all right. Just ask Dave Hanson. The former Nanuet coach was constantly trying to rein in his headstrong protégé. In the fall of 1975 – the season he won the New York State Class B cross country championship – Bret would scoff at the very notion of backing off training for Saturday invitationals.

"Bret always had a tendency to overtrain a bit," says Hanson. "I would call his house at 6 a.m. on a Friday morning just to make sure he wasn't out running. And he was doing this before the state meet that he won. He felt he had to run long and hard, and I said, 'No, you don't.' It wasn't stuff that was put on his schedule, let's put it that way."

On Friday afternoons, while the Nanuet team was running a few easy miles to be fresh for the next day's meet, Bret could be found elsewhere, clicking off sub-six-minute miles and grooving to his own beat. "One Friday afternoon a friend of mine said, 'I saw your kid running down the parkway.' He was motoring along, getting an extra six [miles]. That was Bret."

With a gunslinger's bravado and the ability to back it up, Bret dashed his way to track and cross country stardom for the Golden Knights. In track he won a total of six Rockland and Section 9 two-mile titles and four mile crowns. He was 1976 Eastern States runner-up in the 3,000-meter steeplechase and his time of 9:29.0 ranks No. 3 on the all-time Rockland list. Bret was also third in the 1975 state indoor two mile and was No. 2 man on the Knights' 1974 New York State Federation cross country championship team.

Bret is the only male Nanuet athlete to win an individual state cross country championship, capturing the Class B crown on a sodden course in Buffalo his senior year, the fall of 1975. After running in the shadow of teammate John McNulty the previous year, Bret established himself as the man to beat in '75, winning his division of the St. John's Invitational at Van Cortlandt Park, finishing runner-up in the Manhattan Invitational, and scoring a convincing victory at the Rockland County championships.

With his flowing mane of hair, beaded string necklace and carefree running style, Bret was viewed by opponents as a bon vivant who loved to have a good time. McNulty remembers when he and Bret would interrupt their morning runs for donut breaks at a Pearl River coffee shop along their five-mile route. "We thought it was a reward for getting up early, so we would occasionally indulge ourselves in breakfast," McNulty says. "I wonder if Mr. Hanson ever wondered why Bret and I would come to school with a stomach ache!"

Always a self-assured runner, Bret rarely doubted his prodigious ability. But after finishing a well-beaten fourth in the Section 9 Class B cross country meet in '75, his trademark confidence was indeed shaken badly. Now he would have to expunge that memory in a hurry, regroup and focus on the State Intersectional meet the following week. Could he do it?

Lightning, thunder and a soaking rain threatened to delay the start of the Class B race at Elma Meadows golf course in Buffalo that gray Saturday in November 1975. When the lightning abated enough to get the race under way, Bret never hesitated. Taking a page from the strategic playbook of the legendary Steve "Pre" Prefontaine, Bret bolted immediately to the front of the pack and never looked back. He finished so fast that the meet photographer missed him crossing the finish line and had to stage a "do-over" shot later on.

Bret could have excelled at any sport he chose. He was a star righty pitcher and shortstop in youth baseball, once striking out all 18 batters he faced in a Nanuet Little League game. He posted a solid 6-3 record for the Nanuet varsity as a sophomore before devoting his talents fully to running.

In his junior-year cross country season, Bret was tabbed "the surprise runner of the year" by The Journal-News, and Hanson called him the key to Nanuet's success. Running close behind McNulty, he finished third in the Section 9 meet, ninth in the State meet and eighth in the inaugural Federation championship race, which Nanuet won.

Bret's track accomplishments were similarly impressive. In winter track, he finished third in the State meet in both the two mile and as a leg on Nanuet's two-mile relay his junior year. He was a two-time County champ in the two mile; won County titles in the mile and two-mile relay; was Section 9 two mile champ and mile runner-up his senior year; and won the Section 9 State Qualifier titles in the two mile and two-mile relay. His indoor two-mile time of 9:19.8 ranks No. 5 on the all-time Rockland list, and he ran on a Nanuet two-mile relay than ranks No. 3 all-time indoors (8:00.2).

In the 1976 spring track season, Bret swept the mile and two mile in both the County and Section 9 meets, and won the Section 9 State Qualifier two mile. He also won the mile and two mile in the Section 9 meet his junior year.

Bret continued his running success in college, first at Community College of Allegheny County in Pittsburgh. At Allegheny, he was a junior college All-America in cross country once and in the marathon twice, and helped lead Allegheny to the junior college national championship his freshman year. He later transferred to St. John's University, where he was crowned 10,000-meter run champion at the inaugural Big East Conference championships in 1980.

Bret continued to run competitively for the next decade, performing well in local and area races, before turning his attention fully to another sporting passion, golf. After working for many years in the insurance industry, most recently as an investigator, Bret became a PGA golf professional three years ago and is currently progressing toward his Class A tour card. He served as club professional at Knollwood Country Club in Elmsford, Westchester County, before taking over his present role as club pro at Blue Hill Golf Course in Pearl River.
---