Don Clancy - Nyack 1963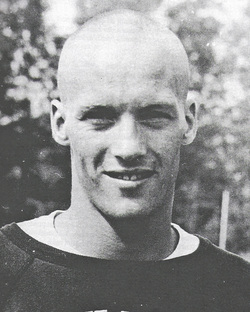 In Rockland County track and field, prestige meant being a sprints kingpin in the early 1960s. In 1963, nobody got down the track faster than Don Clancy.

When 1,500 track fans converged on Spring Valley High School for the 1963 County meet, the main event on the card was a matchup of mercurial speed merchants in the 100- and 220-yard dashes: "Dashin' Don" Clancy, a Nyack senior, and "Jimmy the Jet" Ashcroft, a Spring Valley junior.

On that warm Saturday in May, "Dashin' Don" made local track history by becoming the first Rockland runner to officially break the 10-second barrier in the 100, triumphing in 9.8 seconds. He later won the 220 in 22.0, another County record.

"When Jim Ashcroft and Don Clancy went against each other, that was the event of the season," says Mike Longuil, a Nyack assistant coach from 1956 to 1972. "They were legendary. That great competition did so much for Rockland County track."

Don almost added a third gold medal in the meet-ending 880-yard relay. Handed the baton with a 25-yard deficit, he tore after Spring Valley anchor leg Jim Pollard as if blown through a glass tube. Churning up the cinders with his ground-eating strides, Don came within a whisker of catching Pollard but still left spectators in awe with his hard-charging speed.

"The further he ran, the faster he got," says former teammate Ron Edwards, a fellow Hall of Fame enshrinee. "He could've been great at the 440."

Don culminated a sterling four-year career by finishing third in the 100 at the 1963 New York State championships at Sewanhaka High School in Floral Park, L.I.. Winner Dave Cooper of Lawrence, L.I., runner-up Ollie Hunter of New Rochelle and Clancy came across in a virtual dead heat. Cooper and Hunter were timed in 9.7 and Clancy was given a clocking of 9.75.

At 6-feet-2 and a muscular 180 pounds, Don cut an imposing swath through the Rockland sprinting realm. He looked even more formidable when he shaved his head before big meets – his "lucky haircut," he called it. "He always shaved his head. He said it made him go faster," said Pat Clancy, Don's first wife and a fellow Nyack grad. "He really liked track. We would go to watch him in the competition, to see if anyone could beat him."

In 1960, his freshman year at Nyack, Don teamed with Al Taylor, Ed Walker and Norm Daniels to set a school and Section 9 record of 44.9 in the 440 relay. From 1961 to '63, he swept the 100 and 220 at the Section 9 Class A meet. In 1962, his junior year, he won the 100 (10.0) and 220 (22.7) at the County meet and teamed with Reggie Jenkins, Mike Purka and Ron Edwards to win the 880 relay in 1:33.5, a County record. All told, he racked up seven County titles – the 220 from 1961 to '63, the 100 in 1962-63 and the 880 relay in 1960 and '62.

"I was always a poor starter; I was always behind after the first 30 yards," Don had said in a 1990 Journal-News article on his induction into the Rockland County Sports Hall of Fame. "But after 30 or 40 yards I had great acceleration. If it wasn't for Jimmy [Ashcroft], I wouldn't have done half as well. If I wasn't at my best, Jimmy would win."

Ashcroft went on to break Clancy's 100 mark with a 9.5 and won Rockland's first state sprinting title in '64, but he paid tribute to his friend and former rival in the Journal-News article. "You always had to push yourself to the limit when you ran against Don," said Ashcroft, like Don a member of both the Rockland Sports and Track & Field halls of fame. "He was the best 220 man around. He owned that race. He ran the turn better than anyone I've seen. If you weren't out of the turn with him, you wouldn't win. He was consistent, strong, and a great competitor."

In football, Don was a star halfback and safety for the Indians. He earned second-team All-County honors in 1962, the year Nyack and Haverstraw shared the County title. Nyack's epic 28-25 victory over the Red Raiders that season is considered one of the greatest games in Rockland football history.

At the University of Miami (Fla.), which he attended for two years on a football scholarship, Don tied the school record in the 100, 9.6, during his freshman year. He also set a freshman team record for receiving yardage in one game, 146.

After serving with the Army in Vietnam from 1965 to 1967, Don returned to Nyack and joined the Nyack Police Department. He continued competing in police-sponsored events for several years, placing third in the 100 at the 1972 National Police Olympics in 10.2.

After suffering a heart attack at age 29, Don returned to patrolman duty and later shifted to desk officer before retiring in 1989 after 20 years on the force. Health problems continued to beset Don in later years. He contracted a rare blood disorder and endured two operations for brain tumors. A lifelong Nyack resident, Don died in 1993 at age 49.

Don was married twice and had three children. He and Pat had two children: Jill, 41, and Don, 36. Don and his second wife, Jayne, had one child, Barbara, 31.
---