Sherry Murphy-McGill - Spring Valley 1988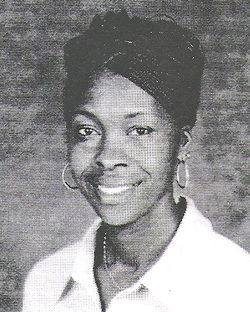 At first, Sherry Murphy-McGill just wanted to do the pure sprints. The 100 and 200 meters outdoors, 55 indoors. It's that sprinter's mentality, you know. The shorter the better. Why schlep all the way around the track if you don't have to?

By her junior year, however, Sherry's coaches at Spring Valley finally convinced her that the 300 – which she disliked even though she set a school record as an eighth grader – would make her a more marketable athlete to college coaches. She wasted little time in extending her sprint dominion; midway through her junior winter season she set a Rockland County record in the 300-yard dash, running 36.8 seconds to eclipse the former mark of 37.0 set by Hall of Famer Lintz Rivera of Suffern in 1981.

But Sherry was far from finished setting records. Later that season, at the Eastern States meet, she sizzled 300 yards in 35.30, the third-fastest time ever in New York State and at the time the eighth-fastest on the all-time U.S. list. She finished second in that race to nationally ranked Tasha Downing of Boston Tech. Her senior year, she again finished second to Downing in the Eastern States 300, clocking 35.58.

Sherry was Rockland's pre-eminent female sprinter for three years. At the spring County championships, she won the 100 four straight years, captured the 200 three times in a row, won the 400 once and ran on the winning 4x100 relays twice. As a senior she finished second in the 300 meters at both the Pathmark National Scholastic Indoor Classic and the New York State meet; placed second in the 200 and third in the 100 at the State outdoor meet senior year; took second in the 300 and fourth in the 55 at States her junior year; holds the County record in the 300 yards (35.30) and is No. 2 at 300 meters (39.86). Additionally, she ranks tied for sixth all-time in Rockland in the 100 (11.9 wind-aided), seventh in the 200 (24.92) and tied for seventh in the 55 (7.0). She still holds four school records, including the 400 (57.4).

Sherry got her start in running as a 7-year-old at Fleetwood Elementary School in Spring Valley. She ran in local age-group meets under the auspices of the Police Athletic League in Spring Valley and also her church, St. John's Deliverance Tabernacle Church in Nyack. A friend and fellow church member, Clara Outlaw of Nyack, encouraged Sherry to run and treated her "like a big sister," she says. Later, while at Spring Valley, Sherry credited Coach Jim Ashcroft with helping her develop into a first-rate sprinter. "Without him I wouldn't have gotten that far."

That's not to say her path to sprinting greatness didn't take a few detours. Hard to believe but she did dabble in cross country early on, once winning a 1.5-mile race for Spring Valley Junior High, and she even got preoccupied briefly with cheerleading, opting to take a break from running the winter of her freshman year.

But sprinting is her calling card, and Sherry knew she would be back doing what she does best. Her running career received a boost sophomore year when she was one of 60 track and field athletes chosen to represent the United States in a meet against athletes from China, age 19 and younger. Sherry swept the 100 and 200 and ran on the winning 4x100 relay to boot.

Sherry's stellar career at Spring Valley earned her a full scholarship to Florida State, a traditional Division I power. Among other highlights, she got to run on a relay with teammate Kim Batten, who went on to set a world record in the 400-meter hurdles. Feeling homesick, however, Sherry left Florida State after one year and accepted a full-scholarship offer from Temple's coach, Chuck Alexander.

At Temple, Sherry enjoyed three productive years. She was a finalist in the ECAC (Eastern) championships three straight years in the 100 and 200, and clocked a personal best of 23.9 for the 200. One of her brightest moments with the Owls, she recalls, was coming from behind to anchor the team's 4x400 to victory at the Penn Relays and having Bill Cosby, a Temple alumnus, present the watches to her and her three teammates on the infield medals podium.

Sherry's track career ended when she graduated from Temple in 1993, with a degree in secondary math education. She remained in Philadelphia for a short period, employed by a publishing company before returning to Spring Valley and working variously as a teacher's assistant at St. Dominic's in Blauvelt, a counselor at the Martin Luther King Multi-Purpose Center in her native Spring Valley, and a children's advocate at Rockland Family Shelter in New City.

She then embarked on a new chapter in her life, one for which she was well prepared. Sherry took a position teaching math to seventh through ninth graders at North Junior High School in Newburgh for two years (she also was cheerleading coach at Newburgh Free Academy during this time). Then, in 1999, she got a job closer to home, teaching math to eighth graders at Willow Grove Middle School in the North Rockland School District. Sherry remained in that position until switching within the district in the 2004-05 school year to Fieldstone Secondary School, also teaching eighth-grade math.

Sherry has made a difference in the lives of her students, as evidenced by her recent selection for inclusion in the Who's Who Among America's Teachers 2005. She was nominated by a former student who herself had been cited for academic excellence.

Although she no longer competes, Sherry maintains a passion for track, as demonstrated by her interest in coaching. She was an assistant girls' spring track coach at Spring Valley the past three years, and this season [2005] moved across the East Ramapo School District to become head girls' coach at Ramapo in the spring.

Sherry, who turns 35 on May 20, and husband Rickey McGill celebrate their 12th wedding anniversary later this month [May 2005]. They have two children, Rickey, 7, and Sheree, 2.
---